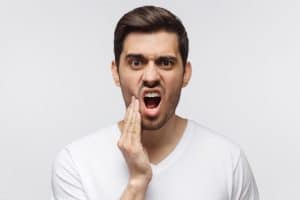 When you know that you have access to emergency dental work, an injury that affects your oral health can feel less scary. Prompt care is more than just reassuring – when you do not delay treatment, you lower your risk for experiencing complications that have to be addressed! Sunny Smiles wants patients to know that we can bring them in and examine an injured, dislodged, or aching tooth on short notice. Through the appropriate restorative dental work, our practice can preserve your smile, maintain your bite, and resolve problems causing you discomfort! We are even prepared to help you if you lose a tooth.

Injuries And Dental Pain Can Be Scary
Dental injuries and pain make it difficult to remain calm. Visible injuries can be especially alarming, as you may fear that your smile is permanently altered when a tooth is chipped, cracked, or knocked out. The good news is that restorative work focuses on restoring your dental health and bite function as well as your appearance. When you have confidence that your smile can be effectively restored, you can feel less anxious about the problem itself and focus on treatment.
Reaching Out For Treatment During An Oral Health Emergency
As soon as possible, contact our practice to let us know you are experiencing a dental emergency. By contacting us, we can prepare for your arrival and give advice on protecting your tooth and managing any pain you feel. When you show up for care, your dentist will take a close look to see what problem you are experiencing before determining treatment. It may be necessary to perform more than one procedure. For example, a root canal treatment and the placement of a dental crown may be needed to take care of an injured tooth.
Will Treatment Preserve My Smile?
Our approach to restorative dental work focuses on more than just directly addressing your oral health problems. This is true even when we are responding to a dental emergency. We can place dental crowns that imitate healthy enamel, which allows your restoration to fit in with neighboring teeth and keep your smile in the same condition it was before your treatment. Even if your tooth is lost and cannot be saved, your dentist will start discussing prosthetic dental work with you so that your smile and bite function are restored.
Arrange Emergency Care At Sunny Smiles!
While dental emergencies can be frightening, they can be properly addressed shortly after they occur at Sunny Smiles. By making urgent care available, we shorten time patients have to spend in discomfort and protect them against potential complications. To find out more about our emergency and general services, please contact our El Paso, TX, dentist's office on N. Zaragoza Road at 915-849-9000.