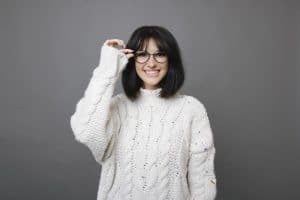 The holiday season is upon us, and we are close to the start of a new year. Because this can be a busy stretch of time, and because people often put off big goals in order to pursue them as resolutions for the new year, they may not see this as a beneficial time to look into cosmetic dentistry. What you should know is that with the right treatment, you can see the results you want in less time you expect, and the overall work can be less involved than you anticipate. If something about your smile has made you dissatisfied, do not wait to see what can be done. The sooner you act, the sooner you can enjoy a big jolt of confidence from your approved appearance!
The Right Procedure Can Do More For Your Smile Than You Might Expect
Until you start discussing your treatment options with your dentist, you can fail to recognize just how much you can benefit from the right cosmetic procedure. With as little as one treatment, you can start to show off teeth that are brighter, straighter, and more uniform! We can review your options for services after examining your teeth and listening to you as you express your desire for an improved appearance.
Choosing From Your Different Cosmetic Treatment Options
Through tooth bonding and contouring services and treatment with porcelain veneers, your dentist can change the way you look by restoring teeth that are worn or damaged, hiding blemishes, and even making positive changes to tooth size and alignment. The bonding and contouring procedure you arrange can move forward without the need to design or place restorations on teeth, which makes it possible to complete in as little as one appointment. While the placement of veneers can require at least two visits, the porcelain material that is used in the making of these restorations offers more durability, which makes preserving your improvements easier. To make matters even more convenient, you can choose to move forward with teeth whitening treatment. We will provide you with a customized kit that includes both potent whitening gels and custom trays to help with their application, which lets you handle this procedure on your own time!
What If I Need Restorative As Well As Cosmetic Work?
If you have a problem with misshapen or damaged teeth, you may need to have at least some of them restored with dental crowns instead of through cosmetic treatment. Fortunately, we can make crowns that match your tooth structure, which means this is a treatment that can still deliver the smile improvements you want!
Talk To Sunny Smiles About Your Options For Cosmetic Dental Treatment
If you have an interest in cosmetic dental work, you should know that treatment can be more accessible and convenient than you might think possible! To find out more about your options, contact Sunny Smiles in El Paso, TX by calling 915-859-7000.