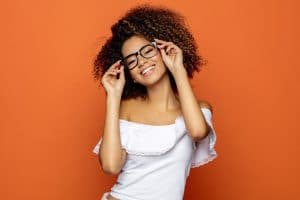 Even minor problems with the way your teeth are aligned can hurt your confidence and make you interested in dental work to change the way you look. People who have these issues sometimes assume that they can only move forward with orthodontic treatment if they hope to hide problems like poor spacing, which can leave conspicuous gaps between teeth. As you look into your treatment options, you can discover that other solutions may be available to you. Sunny Smiles provides a variety of cosmetic dental services to people in and around El Paso, TX. One service we offer is the placement of custom porcelain veneers, which can help change the size, shape, and color of your smile. In order to hide gaps between teeth, we can design veneers that carefully hide gaps and give you a more uniform and symmetrical look!
Covering Smile Gaps And Overlaps Through Cosmetic Dentistry
While some people who have poor smile alignment will need orthodontic work to make their desired changes, many can qualify for cosmetic treatment. This provides a faster solution to your trouble, as you will not have to wait for teeth to permanently shift into new positions. We can meet with you to determine if you qualify for this approach. If you do, we can move forward with plans to change your appearance with porcelain veneers, or thorough a more conservative tooth bonding and contouring procedure.
Receiving Porcelain Veneers
In order for porcelain veneers to make the changes you want, your dentist will first have to take careful measurements of your teeth. These restorations need to be properly shaped and sized to both fit and make your desired esthetic improvements. When they are constructed, you can go back to our office to have them permanently bonded to the surfaces of your teeth. After the placement process is over, you can show off a smile that is more uniform and also free of any other conspicuous flaws!
What Else Can Veneers Do For Your Appearance?
Through the placement of porcelain veneers, you can see more than just a change in the apparent alignment of your smile. These restorations can be used when patients have issues with discoloration that are difficult to address even through professional teeth whitening treatment. They also offer us a way to restore teeth that look worn down or have experienced chips or cracks. At the end of a procedure, you can be delighted to see a smile that appears straighter, brighter, and healthier!
Discuss Treatment With Porcelain Veneers At Sunny Smiles!
Our dental practice is prepared to help patients who wish to do something about embarrassing spaces between their teeth. With porcelain veneers, we can offer a treatment for this problem that does not require orthodontic work! To learn more, contact the Sunny Smiles dental office on Dyer Street by calling 915-859-7000.