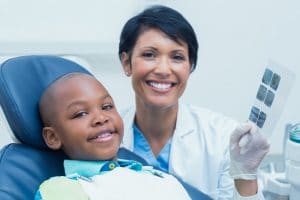 With the right approach to oral hygiene, people of all ages can effectively fight the buildup of plaque and food debris that can lead to oral health troubles. Adults tend to be deeply familiar with good oral hygiene practices, but children have to learn the basics of caring for their teeth and gums in order to avoid problems that require restorative dentistry. Parents can provide guidance, but kids also receive important instructions from their dentist during pediatric dental exams. Our practice has experience working with kids on developing good oral hygiene habits. These instructions, along with consistent preventive care, will make it easier for them to grow up with healthy, lovely smiles!
Visits To The Dentist's Office Should Begin Early
Your child should start seeing the dentist at an early age. After an initial early evaluation when their first tooth arrives, a child should start regular pediatric exams at around the age of three. At this point, kids still rely on their parents to clean their teeth for them. These early visits help kids become familiar with the dentist's office and oral health care. They also allow us to monitor for any early warning signs of trouble that you should know about. When they begin to approach an age where they can brush and floss themselves, their dentist can spend more time instructing them on how and why they should brush and floss their teeth.
Providing Guidance To Kids When They Start Caring For Their Teeth Themselves
Between instructions from their parents and their dentist, kids can have an easier time adjusting to cleaning their own teeth. It is important to wait until they are truly capable of performing these tasks well – kids who start too early can do a poor job, and that can lead to tartar buildup and cavity troubles. When they have the coordination to fully clean their teeth, they can receive detailed instructions from their dentist to make sure they know what they are doing.
Our Practice Is Comfortable Working With Kids And Adults
A family dental office can cover the oral health needs of everyone in your household! That means you can conveniently set up dental checkups for yourself and your kids at one location and one date. Because we offer appointments on Saturday, we make it even easier for everyone to find time to see us.
Schedule Dental Care For Your Kids At Sunny Smiles!
Kids need guidance when it comes to oral hygiene, particularly when they are approaching the age when they are old enough to clean their teeth themselves. Sunny Smiles is ready to work with people of all ages, including young children, and we provide care to help everyone in your family has a confident, healthy smile! To learn more, contact our El Paso, TX, dentist's office on N. Zaragoza Road at 915-849-9000.