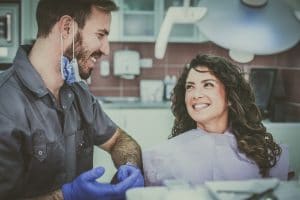 Seeing your dentist on a regular basis will help you prevent the buildup of tartar, it will give you early warnings about dental decay and gingivitis, and it can lead to the detection and treatment of problems that cause chronic jaw pain. Unfortunately, it is not always easy to find time for another appointment, even when you have plenty of advance notice before your next scheduled exam. Sunny Smiles makes it easier to find time by providing office hours on Saturdays! These appointment openings can make it easier for individuals and families to squeeze in visits. As a result, you can continue to stay protected against problems that can demand restorative dental work.
Saturday Appointments Help People Who Struggle With Hectic Schedules
Many people find it hard to keep their schedules open during traditional office hours. As a result, they can struggle to make time for dental appointments and other important matters. At our practice, we help people in and around the El Paso, TX community fit in their checkups by opening our doors on the weekend. With a Saturday appointment, you can more comfortably set up a visit to discuss a concern about a toothache, or about symptoms of TMJ disorder that are affecting your quality of life. These visits also give you the opportunity to stay protected thanks to regular teeth cleanings. Without dental cleanings, you become vulnerable to the buildup of tartar, which can resist removal with a toothbrush or floss.
We Can Provide Quality Care To Parents And Kids
Our practice is proud to offer all-ages dental care, which means we can set dental appointments for kids and their parents. Fitting everyone's routine appointments into one trip can make life more convenient. It also gives you one trusted resource for everyone's oral health issues. For kids, we can provide guidance on brushing and flossing, helpful information on oral hygiene, and traditional preventive care. Adults can enjoy ongoing protection for their smile, as well as warnings about issues like enamel erosion and teeth grinding, which can affect your smile as time passes.
Why You Should Avoid Putting Off Routine Care
Consistent dental exams will make it easier for you to stay informed about your dental health. People who go in for a routine checkup sometimes learn that they need treatment for a cavity, even though they had no symptoms affecting them. When decay is caught early, we can treat it with a dental filing and spare you problems at a later date with tooth infection.
Schedule A Saturday Dental Visit At Sunny Smiles!
At Sunny Smiles, patients who have trouble making time for treatment during traditional office hours can ask about appointments on a Saturday! To find out more, please contact our El Paso, TX, dentist's office on N. Zaragoza Road by calling 915-849-9000.