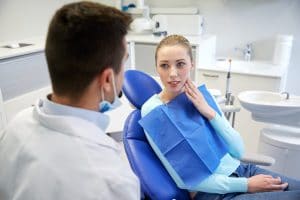 The idea of suffering a dental injury can be an uncomfortable one. It can be difficult to imagine going through an experience where a tooth is broken, knocked loose, or even completely dislodged. With that said, these problems do occur, and if you have to endure a problem like this, know that our El Paso, TX dentist's office is prepared to offer treatment for your dental emergency. Our practice stays open Monday through Saturday, and we can provide prompt care if you find yourself in need of attention as soon as possible. Your treatment can restore the health of a tooth, put a stop to ongoing pain, and ensure that your confidence in both your smile and bite are not affected by your emergency!
Some Dental Problems Require Attention Without Delay
Because you have access to treatment from your dentist on short notice, you do not have to depend on an emergency room visit to receive prompt care. It is important that patients have access to treatment as soon as possible when an injury threatens the health of the tooth. Pain and dental damage can interfere with your bite function, and there may be a limited amount of time where a tooth can actually be saved. After assessing the damage, we will be able to restore the health of the tooth and address your discomfort.
Undergoing Emergency Dental Treatment
Dental emergencies that leave teeth chipped, cracked, or otherwise broken can cause internal damages as well as superficial trauma. Because of this, root canal therapy can be a necessary part of your care. Your dentist will carefully deal with internal problems before preparing a tooth for a permanent restoration. A dental crown can ensure that a tooth remains safely in place, and that it will not experience further damage. If you worry about the effect a restoration might have on the way you look, you can be happy to learn that crowns made from materials like porcelain and zirconia can restore teeth while also preserving the look of your smile.
Dealing With An Injury That Results In Tooth Loss
If you respond quickly and handle a dislodged tooth carefully, your dentist may be able to return the tooth to its socket. Unfortunately, some injuries damage a tooth so badly that saving it will not be possible. In this situation, we can make plans to restore your complete smile through implant dentistry. With a dental implant to hold it, a restoration will enjoy the kind of support that your natural teeth receive from their roots. This can have long-term benefits for your oral health, and it can ensure that the tooth is secure enough to support your bite.
Sunny Smiles In El Paso Can Take Care Of Your Dental Emergency!
Hopefully, you will never need to take advantage of your access to emergency dentistry! If you do find yourself in need of urgent treatment, or if you have questions about one of our routine services, you can contact our El Paso, TX, dentist's office on N. Zaragoza Road by calling 915-849-9000.