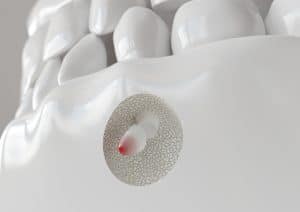 When a tooth is decayed and doesn't receive treatment in time, or if part of your smile is damaged due to injury, then this could increase the risk of the tooth becoming infected. In order to safeguard the tooth against severe discomfort and tooth loss, your El Paso, TX, dentists may suggest an endodontic treatment known as a root canal to protect and preserve the smile.
The Dangers of an Untreated Dental Infection
An infection develops when harmful bacteria reaches the bundle of living tissues known as the pulp. Your pulp oversees the flow of blood and nutrients to and from the teeth, keeping each tooth functional and healthy. However, the infection could grow worse until the tooth actually needs extraction to prevent infection from reaching the rest of the smile. Infection may occur as a result of an untreated cavity, or a crack or chip that exposes the pulp. Warning signs include pain when chewing or biting down, fever, headaches, jaw pain, and toothaches and tooth sensitivity. If you experience one or more of these potential warning signs, then contact our team today.
Treatment with Root Canal Therapy
First, we will examine your smile to assess the severity of your concern. Next, we administer a local anesthesia and possibly even a sedation to ensure you feel comfortable and relaxed. We open the tooth to access and remove the infected tissues, before cleaning the interior and adding a restorative material. The final step involves capping the tooth with a crown. The procedure halts the infection and protects the rest of your smile. You also preserve your outer structure and don't end up with an unsightly gap in your smile.
Restoring Your Smile with a Crown
The crown covers the entire visible portion of your tooth, and may be created using materials like ceramic. Now only can ceramic absorb daily bite forces and pressure, but the materials also look natural and can be shaded to blend with the rest of your smile. Should we have to extract a tooth, remember that we have replacement options, including dental bridges and dental implants, to help restore the health, beauty, and function of your smile. If you have any further questions about our endodontic treatments and lifelike restorations, then contact our team today. We want to help you and your family continue to enjoy optimal oral health.
TALK TO SUNNY SMILES IN EL PASO, TX ABOUT DENTAL RESTORATIONS
At Sunny Smiles in El Paso, TX, our team wants to help people with serious infections protect the health and stability of their teeth. To learn more about our endodontic treatments, then contact your El Paso, TX, dentists at Sunny Smiles on Dyer Street by calling 915-859-7000.