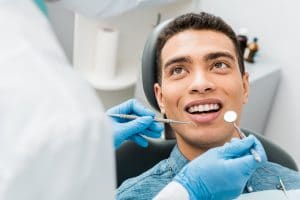 A visit every six months for a checkup is great for kids and adults alike, and a key component of a successful oral health routine. In today's blog, your El Paso, TX, dentists will explain what we look for in a checkup, and the difference between the exams we offer for kids and our adult patients. We also want to talk about warning signs that require a visit!
The Value of Your Exam
You should see our team every six months for an exam. If you have high risk factors for gum disease and other serious oral health issues, we may suggest a visit every three to four months. During your visit, we will employ advanced technology to carefully examine your teeth, gums, roots, and oral structures. The earlier we identify a possible problem, the sooner we administer treatment to help you avoid serious complications down the road, including adult tooth loss! During your exam, we will look for issues like cavities, infections, abscesses, gingivitis, and gum disease. We also watch for common jaw joint disorders, like TMD and bruxism (teeth grinding).
Children Need Them Too!
We also offer routine exams for kids! The first visit should happen within six months after the first baby tooth's eruption. Again, we use advanced technology to identify problems in the early stages, such as cavities, gingivitis, and even developing misalignment. Not only do we help your kids enjoy better oral health, but these visits lower the risk of dental anxiety, and help children gain a better understanding of their oral health and the importance of routine care at home and in the dentist's office. We also assist your children by extracting wisdom teeth in their teen years.
Signs of Trouble
Sometimes, oral health issues develop in between checkup and cleaning appointments, and they require immediate attention. You should let us know if you develop tooth sensitivity or a toothache that doesn't subside after a few hours. This could indicate cavities or infection. If your gums begin to feel sore, look red, or bleed easily, this could mean you have gingivitis or the early stages of gum disease. If you have any questions about the importance of a checkup, or if you would like to schedule one for you or a member of your family, then contact our team today.
TALK TO SUNNY SMILES IN EL PASO, TX ABOUT SCHEDULING YOUR CHECKUP
At Sunny Smiles in El Paso, TX, we want to help you keep your smile strong and healthy with routine preventive appointments. To learn more about our preventive and general treatment options, then contact your El Paso, TX, dentists at Sunny Smiles on Dyer Street by calling 915-859-7000.