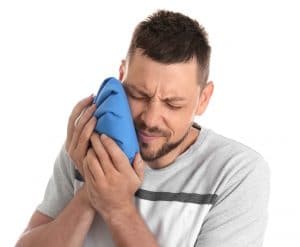 When you sustain an injury to your mouth, face, or jaw, this could have a negative impact on your teeth. Even if damage isn't obvious, a serious fracture could still be present! In today's blog, your El Paso, TX, dentists will talk about how we treat injured teeth and help return smiles to optimal health, function, and beauty with emergency dentistry.
The Dangers of an Injured Tooth
Our teeth are coated in a thin layer of enamel. Despite being so thin, this is actually the hardest substance in the human body and provides protection from harmful bacteria. However, when we injure a tooth and develop even minor cracks and chips, this could expose the inner layers of dentin, which are quite sensitive. A cavity could form, leading to tooth sensitivity and toothaches and as it spreads, an increased risk of infection or abscess. Which means when you damage a tooth, you should let us know right away. Even if there is no visible damage, remember that a fracture could be practically invisible to the naked eye, and a checkup could be very beneficial!
Responding to Your Initial Discomfort
When you injure your tooth, rinse with warm water and then take a pain reliever. If there is bleeding, stem it with a washcloth. A cold compress or ice pack placed against the side of the face could help reduce swelling too. If you can recover any pieces of your tooth, bring them with you. If not, don't worry, we can still repair your smile. When you visit our office, we will be following strict health and safety protocols to protect you and your family from the spread of COVID-19, including PPE for our team members, limiting the number of people in the waiting room, and cleaning and disinfecting surfaces through the office in between each patient visit.
Treatment with Emergency Dentistry
We accept walk-ins during normal business hours, and calling us gives us the opportunity to set up a time at either location 24/7. We know that these issues rarely happen during normal business hours, and we want you to know that we're available to treat your injuries and prevent complications from arising that threaten the health and stability of your smile. If you have any questions about emergency dentistry, then please contact our team today to learn more.
TALK TO SUNNY SMILES IN EL PASO, TX ABOUT TREATING DENTAL EMERGENCIES
At Sunny Smiles in El Paso, TX, we're here to help you find relief from your injuries, repairing cracked and chipped teeth. To learn more about our approach to treating common emergency scenarios, then contact your El Paso, TX, dentists at Sunny Smiles on Dyer Street by calling 915-859-7000.