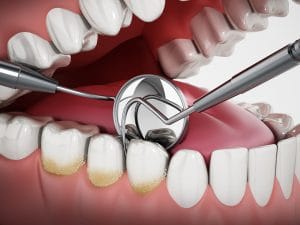 Our last blog focused on the importance of having your smile examined every six months. During these same visits, our dental hygienists will also clean your teeth. Removing plaque and tartar from your smile is a great way to keep teeth bright and free of serious oral health issues. In today's blog, your El Paso, TX, dentists talk about the importance of routine cleanings for patients of all ages!
The Importance of Having Your Teeth Cleaned
Over time, even if we brush and floss at home, bacteria may break down food particles stuck between and on your teeth. The process elevates oral acidity and coats the teeth in plaque buildup. Plaque weakens tooth enamel and increases the risk of cavities and infection, and the same buildup also irritates the gums to increases the risk of gingivitis and gum disease. Having your teeth cleaned removes the buildup to help protect the health of your teeth and gums, and to also reduce the risk of teeth stains and bad breath.
What Happens During Your Visit?
During the appointment, we will remove all plaque and tartar (calcified plaque) with an ultrasonic scaling device and a manual tool. We then polish the teeth for a brighter appearance and smooth finish. The process only takes a few minutes to complete! If you have severe plaque buildup and gingivitis, or the early stages of gum disease, then we may suggest a deep cleaning. Known as a scaling and root planning, this treatment involves removing all buildup from the teeth and the roots. The process could take between one and four visits, depending on the extent of your buildup, and helps reverse gingivitis and manage gum disease to keep your smile healthy and whole.
Do Kids Need Them Too?
Yes! Children also have plaque accumulate on their teeth over time. To help your little ones avoid cavities and gingivitis, we suggest removing plaque and tartar as part of their six-month checkup. In addition to cleaning every six months, kids and adults alike need to brush and floss daily to help control buildup in between your checkup and cleaning visits. If you have any questions about cleaning teeth for kids and adults, or if you would like to schedule a visit for you or a member of your family, then please contact our team today.
SUNNY SMILES IN EL PASO PROVIDES PROFESSIONAL DENTAL CLEANINGS
At Sunny Smiles in El Paso, TX, our team is here to help you avoid issues like tooth decay and gum disease. Routine care is essential for reducing the risk of cavities, infections, gingivitis, and gum disease, keeping your smile whole and strong. For more information on removing plaque and protecting smiles, then contact our N. Zaragoza dental practice by calling 915-849-9000.