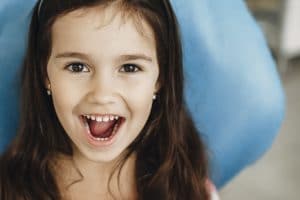 Our last blog was all about dental checkups and why adults need them twice a year. But grown-ups are not the only ones that benefit from a routine visit. In today's blog, your El Paso, TX, dentists will explain how kids benefit from a routine six-month exam and cleaning too! We're also looking at the preventive treatments and minimal restorations we offer for little smiles.
What Do We Look For?
Our team first takes steps to ensure your little ones feel comfortable and relaxed. We carefully explain the exam process, and patiently answer their questions and address their concerns. Using advanced technology, we can carefully (and comfortably) examine their teeth and gums for signs of trouble. We're making sure the teeth are erupting properly and that the baby teeth are falling out on schedule, and looking for signs of trouble, like cavities and gingivitis. The sooner we can identify possible areas of concern, the sooner we can administer treatment to halt cavities and other issues, protecting the health and stability of the smile. These visits also help lower dental anxiety, instill good habits, and help kids gain a better understanding of their overall oral health.
Dental Cleanings
In the same visit, our team will also thoroughly clean your child's smile. A cleaning means we use both an ultrasonic scaler and a manual tool to remove all plaque and tartar from the surfaces of the teeth. This process not only brightens teeth and freshens the breath, but the process also lowers the risk of cavities and gingivitis too! Kids also help by brushing and flossing daily in between each office visit to control the severity of plaque and tartar buildup.
Preventive Treatments and Minimal Restorations
With fluoride treatments and dental sealants, we can help reduce the risk of cavities and strengthen the smile's defenses against cavities. If we uncover a cavity, then we will likely treat it with a minimal restoration, also known as a filling. The restoration is made from composite resin, a metal-free material that we shade to match the color of surrounding tooth structure. Placement only takes one visit, and helps preserve natural tooth structure while halting the rate of decay. If your child complains about an aching tooth, or is overdue for a checkup and cleaning visit, then please contact our team today. We want to work with you help safeguard your child's smile, and help them take better care of their teeth and gums!
SUNNY SMILES IN EL PASO PROVIDES CHILDREN'S DENTISTRY
At Sunny Smiles in El Paso, TX, we want to help your children enjoy their best smiles for years to come. For more information on children's dentistry, then contact our N. Zaragoza dental practice by calling 915-849-9000.