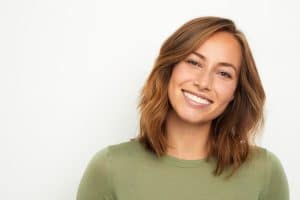 Our gums act as a frame for our smile, and also help keep our teeth firmly in place. With means an excess of gingival tissues, known as a gummy smile, can upset symmetry and have a negative impact on your smile's beauty. In order to correct this common issue, your El Paso, TX, dentists employ gum contouring treatments!
The Causes and Impacts of a Gummy Smile
Too much gum tissue on display could mean that the teeth appear small or uneven, and no amount of cosmetic treatment for the teeth can correct this. The causes could be due to issues with the growth and development of the smile, or swelling as a result of gingivitis and periodontal disease. To identify the factors behind your esthetic issues, our team will perform a detailed exam using advanced technology. We will find out what is causing your esthetic issues, and plan your treatment process, which could involve contouring.
Periodontal Disease
Let's talk a bit about periodontal disease. This occurs when the gum tissues become inflamed, often as a result of poor oral hygiene, among other factors. The tissues become red, sore, and bleed easily, and unless the inflammation is treated, the tissue could pull away from the teeth to form deep pockets for bacteria to enter, causing periodontal disease. While there is no cure for periodontal disease, we can manage the issue with routine care to help prevent the advanced stage, periodontitis, which could otherwise cause tooth loss.
The Contouring Process and Better Health Habits
Whether the issue occurs naturally or as a result of swelling related to disease, we can administer a local anesthetic to ensure you feel comfortable. Next, we carefully remove the excess tissues and reshape the gum line with precision and accuracy. The technology we use limits the risk of damage to healthy tissues, and lowers the risks of developing an infection following treatment. For people with periodontal disease, we remove the diseased tissues to help healthy gums attach to the teeth, managing the issue and preventing tooth loss. If you have questions about treatment to improve the symmetry of your smile, then contact our team today. We would love to help you obtain a stunning new smile, one you'll feel proud to show off when you smile or laugh!
TALK TO SUNNY SMILES IN EL PASO, TX ABOUT COSMETIC SMILE IMPROVEMENT
At Sunny Smiles in El Paso, TX, our team is ready to help improve the health and beauty of your smile with advanced technology. Along with gum contouring, we also have professional teeth whitening, dental bonding and contouring, and lifelike porcelain veneers. To learn more about cosmetic care options, then contact your El Paso, TX, dentists at Sunny Smiles on Dyer Street by calling 915-859-7000.