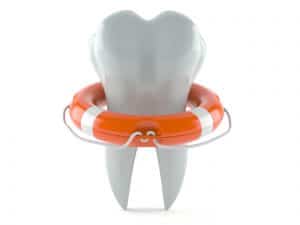 When you lose a tooth to an injury, you need to contact your El Paso, TX, dentists for emergency dentistry. In today's blog, we're looking at how to respond to this common dental emergency, as well as the options we provide for repairing damaged or missing teeth. Don't let damage lead to poor oral health and serious complications!
Responding to Your Smile
First, remember to pick your tooth up by the crown, or visible portion. Never touch the root! If there is dirt, you can gently rinse the tooth under running water to remove dirt, but take care to keep tissues in place. Place the tooth in a glass of milk or salt water, and bring it to the office with you. If this isn't possible, you can also put it back into the socket and gently bite down to hold it in place until we can see you. To address any bleeding, be sure you use gauze or cloth, and remember that a cold compress or ice pack against the side of the face can reduce swelling. You can also take an over-the-counter pain reliever too.
The Dangers of Knocked-Out Teeth
The sooner you see us, the sooner we can put the tooth back in and hopefully save it. Both of our locations have emergency services and are available 24/7. If your injury happens outside of normal business hours, simply call us and we will arrange for someone to see you and offer care. If you lost a tooth and didn't see the dentist and now have a gap, please contact us. A gap due to a missing tooth could lead to an increased risk of misalignment, loss of jawbone tissue, further tooth loss, and even complications when eating or speaking. Remember, our team can address the gaps in your smile with lifelike replacement options.
Replacing Missing Teeth
If you have a gap in your smile and preserving your knocked-out tooth isn't possible, we can restore the lost tooth with a custom-made dental bridge, or even a single tooth dental implant. We want to ensure you continue to enjoy optimal oral health with a full and functional smile, and we always take care to ensure replacement options look natural and blend with the smile. If you have any questions about emergency dental care, or about restorative and prosthetic dentistry, then please contact our team today.
TALK TO SUNNY SMILES IN EL PASO, TX ABOUT EMERGENCY DENTAL CARE
At Sunny Smiles in El Paso, TX, we offer emergency dental care for people in our community with missing or damaged teeth. To learn more about our treatments for tooth loss, then contact your El Paso, TX, dentists at Sunny Smiles on Dyer Street by calling 915-859-7000.