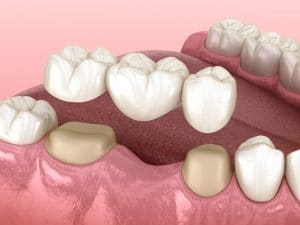 When you lose a significant number of teeth, then you could require a denture. But if you have only one to three missing teeth in a row, your El Paso, TX, dentists could improve your smile with a custom-made dental bridge. In today's blog, we're talking about how we create lifelike prosthetics, and how they prevent worsening oral health.
The Impact of Missing Teeth
How does losing one or more natural teeth cause problems for your oral health? Well, the gap in your smile could cause surrounding teeth to begin drifting from position, leading to misalignment. Not only does misalignment impact your smile's appearance, but this could increase the risk of tooth decay and gum disease. For others, missing teeth could cause problems eating, speaking clearly, or even place pressure on the jaw joints and bite imbalance, leading to TMJ disorder and bruxism (teeth grinding).
Creating Your Custom Dental Bridge
To fill the gap in your smile, we will start by removing a little structure from the teeth on either side of the space in your smile. Then, we take detailed impressions and images of these teeth, which we use to design and fabricate the prosthetic. The prosthetic will consist of your new teeth, referred to as pontics, with dental crowns on each end. We place the crowns onto the prepared teeth, anchoring the new ones firmly in place. We may use materials like ceramic to create your bridge, ensuring a strong and durable bite surface, and a lifelike appearance. On average, a bridge last for about 10 to 15 years before needing replacement.
Preserving Your Smile
To protect your smile from tooth loss, be sure you wear a mouthguard when playing sports, and take care to brush and floss daily. Routine homecare helps lower the risks of issues like tooth decay and gum disease, which could otherwise increase the risk of tooth loss. Make time to see our team every six months too. A checkup means a chance to monitor your smile for issues that could lead to tooth loss, addressing them in the early stages. We also clean your teeth, removing the plaque buildup that could lead to gum disease, a major factor in adult tooth loss. If you have any questions about our lifelike dental bridges, or about steps to avoid tooth loss, then please contact our team today.
SUNNY SMILES IN EL PASO PROVIDES TOOTH REPLACEMENT
At Sunny Smiles in El Paso, TX, our team could address minor tooth loss for people with one or more missing teeth. You not only enjoy a full smile again, but improved oral health and bite function too. For more information on addressing minor cases of missing teeth, then contact our N. Zaragoza dental practice by calling 915-849-9000.