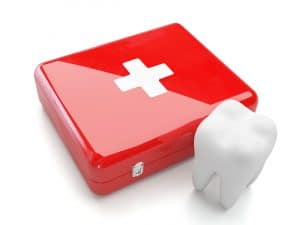 Do you have an ache in your smile, or pain when you chew? Sometimes, discomfort could be related to poor oral health or even the consequence of a damaged tooth. But when should you contact your El Paso, TX, dentists for emergency treatment? How do we halt discomfort and restore the health and beauty of your smile?
The Dangers of Sensitive and Aching Teeth
When a tooth hurts and the pain stops after a few hours, then this could be related to issues with your sinuses, such as an infection, or possibly due to allergies or changes in elevation. But if sensitivity and pain continue after a day or more, then this could mean your smile has an advanced cavity or possibly an infected tooth. Treatment is crucial to stop discomfort and to also prevent the loss of your tooth. When you experience pain in your smile, gently floss on either side of the tooth and then rinse with warm water. If this fails to address the discomfort, then contact our team right away. You can also take a pain reliever too!
Scheduling Your Visit
Our team provides emergency are 24/7 for people in our community. Our office is open six days a week at our East-side location, and on Monday through Friday at our Northeast location. You can call or text the office closest to you. We will be practicing social distancing and also cleaning and disinfecting surfaces in our office in between each visit. Our team will be wearing PPE as well, all to keep both you and our team safe!
Our Treatment Options
For those with cavities, we may remove the decay and then place a filling. Instead of metal, we will use a biocompatible composite resin that can be shaded to match the color of your teeth. Placement only takes one visit! We also use the same material to address other emergency situations, such as cracked or chipped teeth, providing lifelike results in a single sitting. If you have an infection or severe decay, then we could design and create a crown that covers the tooth and addresses more substantial causes of concern. Don't let your aches develop into a more serious concern that threatens the stability of your smile, let us know. You can contact our team for emergency care any time, and we will arrange for a doctor to see you as soon as possible. If you have any questions, then please contact our team today.
SUNNY SMILES IN EL PASO PROVIDES EMERGENCY DENTISTRY
At Sunny Smiles in El Paso, TX, we want to help by addressing serious issues that threaten your oral health. For more information on emergency dentistry, then contact our N. Zaragoza dental practice by calling 915-849-9000.