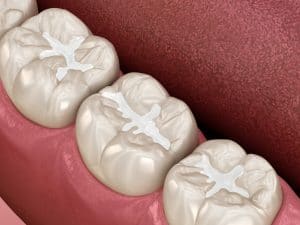 When you have a cavity, you need treatment to prevent the onset of dental infections. In today's blog, your El Paso, TX, dentists are talking about treatment with lifelike and biocompatible dental fillings. Find out what makes these such a preferable alternative to traditional metal fillings in our latest blog.
When Do You Need Treatment?
When you attend your routine checkup visits, we will carefully examine your teeth to look for potential signs of trouble, and that includes tooth decay. In fact, we often discover them in the earliest stages with advanced technology, before you even experience discomfort! Otherwise, you may not know you need treatment until you begin to experience tooth sensitivity or a toothache that doesn't pass after a day or two, and instead grows more severe with time. At this point, your decay has entered a more advanced stage and treatment is crucial for avoiding the onset of a painful infection or abscess, which could threaten the stability of your tooth.
Creating a Lifelike Dental Filling
When we examine your smile and discover a cavity, we will administer a local anesthetic to ensure you remain comfortable. We then remove the decay from the tooth and thoroughly clean it. We prepare and place the filling material, which we create from composite resin. Not only is the material metal-free and biocompatible, but it mimics the translucent appearance of tooth enamel and can be shaded to blend with the smile seamlessly. After we apply the material, we will sculpt and shape the tooth as we cure the composite resin under a special light. The final step involves polishing the tooth for a more lifelike appearance. The entire process only takes a single sitting, and helps you leave with a healthy and attractive smile!
Preventing the Need for Future Fillings
To avoid future cavities from home, be sure you brush your teeth twice a day for two minutes to remove trapped food particles. Otherwise, bacteria will break down these particles to create plaque buildup and weaken enamel, leading to cavities. You also need to floss every night before bed, as this removes what a toothbrush alone cannot reach. Cut back on your consumption of sugary foods and drinks too, as a healthier diet limits what harmful bacteria can successfully feed on. Be sure you attend a checkup and cleaning every six months too, as the cleaning portions involves treatment to remove plaque buildup and protect your smile!
TALK TO SUNNY SMILES IN EL PASO, TX ABOUT RESTORATIVE DENTAL CARE
At Sunny Smiles in El Paso, TX, our team offers a lifelike solution to minor and more advanced cases of tooth decay. To learn more about repairing smiles in one visit, then contact your El Paso, TX, dentists at Sunny Smiles on Dyer Street by calling 915-859-7000.