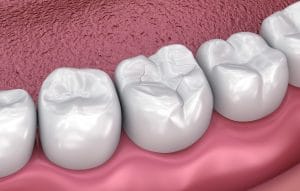 When you have a cavity, your tooth needs treatment right away to avoid complications, such as dental infections. In order to halt the decay and return the tooth to an optimal state of health and beauty, we may suggest a lifelike filling created with composite resin. In today's blog, your El Paso, TX, dentists will be talking about how to prevent and treat cavities.
The Causes and Dangers of a Cavity
When we consume foods and drinks that contain a lot of sugar, and we also fail to brush and floss properly, this could lead to plaque buildup coating our teeth and weakening the protective layer of enamel. Soon, a cavity could form! An injury to the tooth, such as a crack or chip, or worn enamel due to teeth grinding, could also lead to tooth decay. Without treatment, a cavity continues to grow and spread with time, eventually allowing an infection or abscess to occur and threatening the stability of your tooth! Warning signs vary, but often include tooth sensitivity and toothaches, so let us know if you begin to experience persistent pain in your smile.
Treatment with a Filling
A dental filling halts a cavity and helps prevent infection. We start by preparing the composite resin material, a metal-free blend of glass and acrylic, which we can shade to match the color of the tooth. We remove decay for the tooth and clean it before applying the composite resin in multiple layers. We shade the tooth as we cure this material under a light. The final step involves thoroughly polishing the tooth for a more lifelike appearance. In a single visit, we can restore the smile, and we offer this for both kids and adults alike!
Keeping Cavities at Bay
From home, better oral hygiene habits could help lower the risks of issues like tooth decay. For example, try to cut back on sugary foods and drinks, and instead eat snacks such as fruits, veggies, nuts, cheeses, and yogurts. Drink more water too, this not only hydrates, but also helps cleanse your smile. You also need to brush your teeth twice a day for about two minutes each session, and use a fluoride toothpaste when you do. Be sure you floss as well! If you have any questions about keeping your smile safe from home, or about identifying and treating cavities, then please contact our team today.
TALK TO SUNNY SMILES IN EL PASO, TX DENTAL RESTORATIONS
At Sunny Smiles in El Paso, TX, our team is here to help address your cavities and other emergency dental situations. To learn more identifying and treating dental cavities, then contact your El Paso, TX, dentists at Sunny Smiles on Dyer Street by calling 915-859-7000.