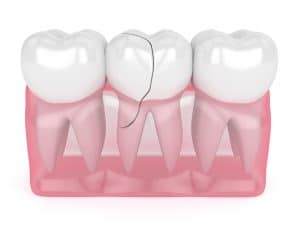 Sometimes, people may be unclear about what constitutes a dental emergency. A knocked-out tooth is an obvious one, as is a missing restoration. But what about a chip? In today's blog, your El Paso, TX, dentists look at how even a minor chipped tooth could be an emergency situation, and one that we can still treat in our office!
The Dangers of Minor Damage
We could chip a tooth by biting down on a hard piece of food, or by chewing on ice or a pen or pencil. A sports injury or other kind of accident could also cause minor damage. Even if you assume the damage is mainly cosmetic, you should still talk to our team. Even seemingly minor damage could expose the inner layers of dentin to bacteria, allowing a cavity to form. As the cavity grows more severe and spreads over time, this could eventually allow a tooth to become infected or develop a painful abscess. To avoid these complications and the discomfort they cause, you should seek treatment for any damage.
Our Health and Safety Measures
If you're feeling nervous about visiting our office, know that our entire team is following strict health and safety protocols to keep our patients safe, including cleaning and disinfecting surfaces and tools in the office in between each visit. We will wear masks and gloves, and also make sure you don't share the waiting room with other people.
Restoring Your Tooth
When you damage a tooth, see if you can recover any pieces and if so, wrap them in tissue or put them in a small container and bring them with you to the office. You can take an over-the-counter pain reliever to ease discomfort. A washcloth or gauze could stem bleeding, and placing a cold compress or ice pack to the side of the face could help reduce swelling.
When you arrive, we will examine the tooth and choose the best treatment option. For minor damage, we could use the same material employed in a tooth-colored filling to offer lifelike repair in a single visit. If the damage is more substantial, then we may instead use a lifelike and custom crown to repair the tooth. If you have any questions about our approach to emergency dentistry, or about our health and safety protocols, then please contact our team today. We're always available to answer any questions about keeping your smile healthy and whole from home.
SUNNY SMILES IN EL PASO PROVIDES EMERGENCY DENTISTRY
At Sunny Smiles in El Paso, TX, our team is ready to help you repair your smile. For more information on protecting and repairing smiles, then contact our N. Zaragoza dental practice by calling 915-849-9000.