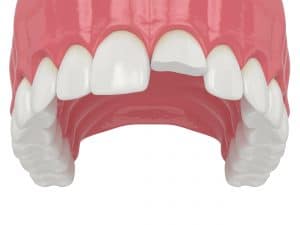 For people with teeth stains, we may suggest professional teeth whitening. But what if you have a chipped tooth, or issues with the shape of your teeth? To help correct an array of esthetic concerns, your El Paso, TX, dentists may recommend using dental bonding and contouring, which can help transform smiles in as little as one visit.
The Dental Bonding Process
Dental bonding uses the same composite resin we employ as part of our tooth-colored dental fillings. Composite resin contains no metal and is a blend of glass and acrylic, which means it's not only safe for people of all ages, but the materials can also be shaded to match the color of surrounding tooth structure. We start by removing decay and then cleaning the tooth. We then apply the material in several layers, sculpting it as we cure the composite resin under a light. Finally, we polish the tooth for a more lifelike appearance. The treatment allows us to repair minor chips and cracks, lengthen worn down teeth, close gaps between the teeth, and even mask permanent teeth stains, which could be difficult to remove with traditional teeth whitening.
Contouring Your Smile
We also have a very different procedure. This option also takes one visit to complete, and we can even perform this in the same visit as your bonding procedure. Contouring involves gently sanding and buffing the outer structure to correct esthetic issues. For example, we can remove pits or grooves in the tooth surfaces, repairing malformed or damaged teeth, dull sharp or pointed teeth, and resize those that appear overly large in your smile.
Ensuring Your Health and Safety
Our team will continue to take steps to ensure your health and safety when you visit us. For example, we will be wearing PPEs, such as masks and gloves, and will clean and disinfect commonly touched surfaces in between each patient visit. We will also ensure proper social distancing in the waiting room, and remove items like magazines or toys that people may touch. These steps help protect our patients and our team members alike from the spread of COVID-19, so you have a safe means of addressing oral health issues and even cosmetic issues with your smile. If you have any questions about our approach to cosmetic dentistry, then contact our team today.
TALK TO SUNNY SMILES IN EL PASO, TX ABOUT COSMETIC DENTISTRY
At Sunny Smiles in El Paso, TX, our team is available to repair damage and correct a number of different esthetic concerns. To learn more about how we restore smiles, then contact your El Paso, TX, dentists at Sunny Smiles on Dyer Street by calling 915-859-7000.