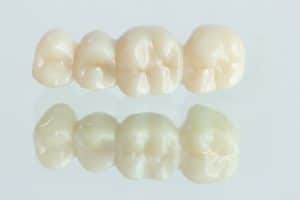 If you have a cavity, or if a tooth has sustained serious damage, then you will need a restoration to repair the damage and return the smile to optimal health and function. Fortunately, your El Paso, TX, dentists know how to provide fillings and crowns that not only offer long-lasting and durable dental restorations, but natural-looking improvement as well.
Lifelike Dental Fillings
If you have a cavity, we don't need to rely on metal fillings. Instead, we create them from a unique blend of glass and acrylic known as composite resin, which we can shade to match the color of your tooth. In one visit, we halt the decay and stop the tooth sensitivity and toothaches. If you have minor damage, such as a chipped or cracked tooth, then we could use the same material in a dental bonding procedure to offer single-visit repairs!
Crowns That Blend with Your Smile
A dental crown covers the entire visible portion of your tooth, and we can create them from strong and lifelike materials, such as ceramic and zirconia, which can be shaded to match the color of surrounding structures. A dental crown helps address advanced decay, and completes a root canal for people with an infected or abscessed tooth. We address serious breakage and fractures, and also aid in tooth replacement for people with missing teeth, securing bridges and even restoring single-tooth dental implants. With proper care and attention, your crown could potentially last for decades to come, providing secure solutions to an array of cosmetic and restorative issues.
Porcelain Veneers
While we're on the subject of restorations, let's look at a cosmetic one. A porcelain veneer is very thin and is placed onto the front-facing sides of the teeth. The material we create them from is strong, durable, and can be shaded to match the color of your smile. We use them to instantly address multiple issues with the shade and shape of your tooth. We may even combine them with bonding and other treatments to provide a complete smile makeover. If you have any questions about our cosmetic dental restorations, or if you have an aching or damaged tooth in need of treatment, then please contact our team today to schedule a visit.
SUNNY SMILES IN EL PASO PROVIDES COSMETIC IMPROVEMENTS
At Sunny Smiles in El Paso, TX, we know that restorations not only improve the function and long-term oral health of a smile, but can improve esthetics too! We want to ensure you continue to feel proud to smile, and never feel the need to hide your face when you laugh or smile! For more information on cosmetic dentistry, then contact our N. Zaragoza dental practice by calling 915-849-9000.