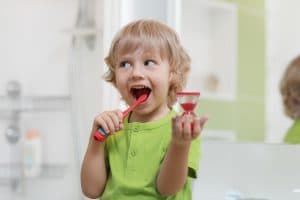 You've probably heard this since you were a child: You need to brush your teeth every day to avoid cavities and other issues. Since we're stuck at home and unable to attend exams and cleanings, caring for teeth at home is vital for your overall oral health. In today's blog, your El Paso, TX, dentists talk about proper brushing for kids and adults!
Cleaning Little Smiles
Your kids should be brushing just as much as you! For babies, use a small brush or a piece of cloth or gauze to clean each tooth. For toddlers, upgrade to an age-appropriate toothbrush. Kids three and older should use a toothpaste that contains fluoride, a rice-sized blot each time. They should have their teeth cleaned when they wake up and again before going to bed. You should monitor your younger kids as well. To help make the process more enjoyable consider getting a small hourglass to time them, or downloading a fun app or podcast that walks them through the process!
Brushing for Adults
Grown-ups need to clean their teeth when they wake up and again before going to bed. Each session should take two minutes, and employing a fluoride toothpaste and a toothbrush with soft bristles to prevent inadvertent enamel damage if you brush too hard. You can use electric or manual, whichever you prefer. Approach the teeth at a 45-degree angle and clean the tops and sides thoroughly. Move the brush in circular motions to clean the front-facing sides of the teeth. Doing this twice a day removes food particles that would otherwise feed harmful bacteria and increase the risk of issues like tooth decay, gingivitis, and gum disease.
Don't Forget About Flossing!
Every night before bed, we need to floss. For kids, this starts as soon as there are teeth sitting side-by-side, and a floss pick is usually easier for them to handle. Adults should use floss tape or a water flosser every night before bed, as this reaches and removes what a toothbrush alone cannot. Flossing is excellent for reducing the risk of cavities and periodontal health issues, helping preserve your smile until we can perform a detailed dental cleaning again. If you have any questions about caring for smiles from home, or about our approach to emergency dentistry, then contact our team today. We want to make sure you and your family enjoy optimal oral health!
SUNNY SMILES IN EL PASO DISCUSSES HOMECARE HABITS
At Sunny Smiles in El Paso, TX, we know that routine care, when done correctly, can help limit the risk of tooth decay and other oral health concerns. For more information on protecting your oral health from home, then contact our N. Zaragoza dental practice by calling 915-849-9000.