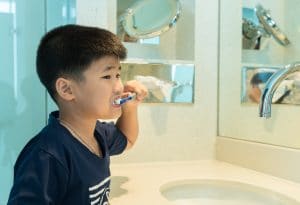 Now that your kids are home, and staying in when possible, boredom is likely to lead to urges to snack, or them forgetting to brush and floss their teeth. In today's blog, your El Paso, TX, dentists talk about what kids can do to keep their smiles healthy, and how certain snacks could increase the risk of tooth decay and other oral health issues!
Brushing and Flossing
As soon as the first baby tooth arrives, it needs it be cleaned twice a day to avoid tooth decay. As your child grows, he or she will need to brush when waking up for about two minutes, and do the same before bed. For toddlers and older kids, we suggest using a rice-sized blot of toothpaste and an age-appropriate toothbrush with soft bristles. Often you can find fun games, apps, or podcasts to time them or walk them through the process. Be sure they floss too! Once teeth sit side-by-side, food can become trapped between them and often floss is the only way to remove them and reduce the risk of issues like cavities or gingivitis.
Emergency Treatment
We're currently not offering checkups and cleanings or preventive treatments like fluoride varnish or dental sealants. However, if your child develops a dental emergency, then you may need to bring him or her in for treatment. We consider any damage, such as a chip or crack, to be an emergency. In addition, a persistent toothache, which could identify the presence of a cavity or an infection, also qualifies as an emergency and requires treatment. Often in a single visit, we can use fillings to repair cavities and restore the tooth.
Better Snack Habits
Along with better brushing and flossing habits, kids also need to watch what they eat and drink. Foods and drinks high in sugars and starches, like candy, chips, sodas, and energy drinks, could increase the levels of oral acidity and coat the teeth in plaque, which weakens enamel and may lead to cavities. Instead, try to offer healthier options, like fruits, vegetables, nuts, cheeses, whole grain crackers, and yogurt. Encourage more water and fewer sodas, and remember that even healthy options like fruit juice also contain lots of sugar! If you have any questions about keeping little smiles healthy, then contact our team today. We want to make sure you and your family keep your smiles strong until we can see you again.
TALK TO SUNNY SMILES IN EL PASO, TX ABOUT CHILDREN'S DENTISTRY
At Sunny Smiles in El Paso, TX, we would like to help you and your family maintain optimal oral health. To learn more about caring for little smiles, then contact your El Paso, TX, dentists at Sunny Smiles on Dyer Street by calling 915-859-7000.