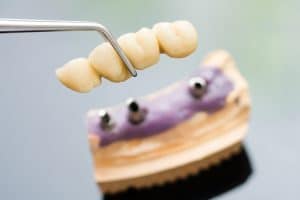 Dental bridges are often held in place with crowns and help protect your smile from the dangers of untreated tooth loss. However, your El Paso, TX, dentists can provide a more secure option using dental implants. In today's blog, let's look at the benefits of placing implant-secured dental bridges to address missing teeth.
The Benefits of a Bridge
When we lose natural teeth, this could lead to trouble speaking clearly or eating your favorite foods. Others may develop painful disorders like TMD or bruxism as a result of pressure on the jaw joints and changes to bite balance. A bridge addresses minor tooth loss and fills the gaps in your smile. This not only improves smile beauty, but also helps prevent other complications of tooth loss, such as misalignment. The prosthetic typically contains new teeth, known as pontics, with crowns attached to each end. Typically, we place the crowns on natural teeth on each side of the gap in the smile. Referred to as abutment teeth, these will need structure removed to make room for the crowns. While effective, they need replacement every 10 to 15 years on average.
Placing Your Dental Implants
When we secure them with dental implants instead of crowns, we preserve tooth structure as there is no need to involve abutment teeth. Instead, a screw-like device made from biocompatible titanium will be inserted into the jawbone. Your prosthetic may need between one and three to secure your new teeth. After the area heals and the implants bond with the jawbone, we attach the crowns on the prosthetic to the new roots. Since the dental implants stimulate the growth of jawbone tissue, this means your new prosthetic could last for decades, possibly a lifetime in some cases. The crowns and pontics will of course be crafted from durable and lifelike materials, providing a dependable chewing surface and blending seamlessly with the smile.
Maintaining Your New Smile
You will need to maintain good oral health, as your new tooth roots could still be vulnerable to gum disease and infection. You should brush and floss daily, and clean the spaces between the bottom of the prosthetic and the top of the gums, where food accumulates. Every six months, check in for an exam and cleaning, so we can monitor your smile and improve overall oral health. If you have any questions about securing bridges with implant dentistry, then please contact our team today.
TALK TO SUNNY SMILES IN EL PASO, TX ABOUT ADDRESSING TOOTH LOSS
At Sunny Smiles in El Paso, TX, we would like to help you obtain a full smile once more. For more information on dental prosthetics, contact your El Paso, TX, dentists at Sunny Smiles on Dyer Street by calling 915-859-7000.