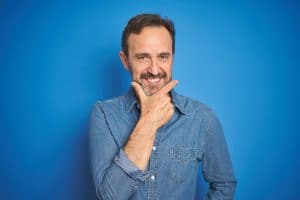 When is a bridge not enough? If you have lost a number of your teeth, possibly a majority, then you may need dentures. We have several options available, all of which can help restore smiles to full function, beauty, and health. In today's blog, we're going to talk about how we create and place a custom-made set of dentures.
Advanced Tooth Loss
We lose our teeth to a number of serious factors, such as injury or accident. Advanced cases of tooth decay or infection could also lead to the loss of one or more natural teeth. However, the most common cause of advanced tooth loss is usually gum disease. When the disease reaches the advanced stages, known as periodontitis, this could cause the connective tissue between the teeth and gums to break down. As we grow older, this could mean total loss of teeth in some cases. As a result, this means an aged appearance, the inability to eat anything other than soft foods, and issues speaking clearly, among other negative impacts on overall oral health.
Full and Partial Options
To restore your ability to eat your favorite foods and enjoy a full and beautiful smile, we may address advanced tooth loss with a set of dentures. We have two very different options. A partial addresses gaps spread out across the smile, replacing missing teeth for those that don't yet need a full prosthetic. The denture contains metal clasps that attach to natural teeth, and a base made from acrylic that will look like gum tissue. The new teeth will be custom-made for a lifelike appearance and better durability. If you have suffered total tooth loss, we may suggest a full prosthetic, which replaces every tooth on one or both arches. Suction keeps them in place and they are custom-crafted to ensure a natural appearance and a comfortable fit.
Implant Dentures
The dentures above are removable, which means they don't stimulate the growth of jawbone tissue, causing the bone tissue to break down and the jaw ridge to change shape. These prosthetics then need to be replaced every 5 to 10 years. However, by securing them with dental implants, they will be fixed in place and the implants will stimulate jawbone growth, ensuring the new teeth last for decades and again offer a lifelike appearance. If you have any questions about our tooth replacement options, or if you've suffered the loses of several natal teeth, then contact our team today. We would love to help you enjoy a healthier and more attractive smile.
SUNNY SMILES IN EL PASO OFFERS FULL AND PARTIAL PROSTHETICS
At Sunny Smiles in El Paso, TX, we can help people suffering from advanced cases of tooth loss. If you have questions about replacing missing teeth, then you can contact our N. Zaragoza dental practice by calling 915-849-9000.