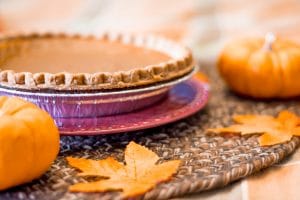 Who doesn't love sitting down with their friends and family to enjoy a wonderful Thanksgiving meal? We want our El Paso, TX, patients to enjoy a happy and safe holiday this year. We also want them to understand the link between many of our holiday favorites and the onset of painful cavities. Find out how a few simple steps can help keep smiles free of cavities!
Cavities and Holiday Favorites
While you may be aware that many popular holiday desserts, like pie, cookies, and cake, contain lots of harmful sugar, what about starch? Stuffing, mashed potatoes, biscuits, and muffin, and other similar items contain starch, which can adhere to the teeth and be broken down just as easily as sugar is, a process that coats the teeth in a sticky layer of plaque buildup. Over time, plaque not only leads to stained teeth and bad breath, but weakened tooth enamel and inflamed gum tissue, boosting the risk of cavities and gum disease.
Keeping Smiles Young and Old Free of Tooth Decay
We have a few tips for protecting smiles of all ages. First, encourage your family to drink water with their meals, which helps rinse away particles of sugar and starch. Also, eating fresh veggies, like carrots and broccoli, can help scrub away the particles adhering to the teeth. After eating, you and your family should floss, moving the floss tape up and down the length of each side of every tooth, even dipping below the gum line, to remove food particles. Before bed, be sure everyone brushes their teeth for two minutes using a toothpaste that contains fluoride. With a few simple changes to your routine, you can help protect your smiles without avoiding all of your holiday favorites.
Schedule a Visit
Your family should also see us after the holiday for a checkup and cleaning. We can examine the teeth and gums for signs of trouble and if necessary, administer treatment before the next holiday happens. You greet 2020 with a healthier smile and also have the chance to use your 2019 dental insurance benefits before they expire. A visit every six months for kids and adults alike is essential for maintaining optimal oral health, in this year and the next. If you have any questions about protecting your smile, or if you're ready to schedule the next visit for you and your family, then contact our team today.
SUNNY SMILES IN EL PASO OFFERS TREATMENT FOR TOOTH DECAY
At Sunny Smiles in El Paso, TX, our team wants to help you and your loved ones enjoy a smile healthy Thanksgiving celebration. If you have questions about family dentistry, then please call our East El Paso location on N. Zaragoza Road at 915-849-9000!