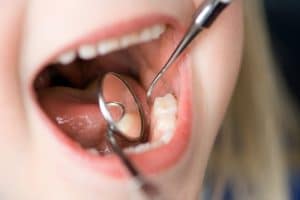 When an adult develops a cavity, then a dentist may place a dental filling to treat the problem and return smiles to optimal health and beauty. With kids, your El Paso, TX, dentists will do something very similar. With a minimal restoration, we protect these teeth from infections or abscesses, and offer a solution that looks natural.
The Warning Signs of Trouble
If you attend routine checkup and cleaning visits then our team will likely uncover any signs of decay early, before your child experiences discomfort. Otherwise, you likely won't know there is a problem until your kid reports sensitive teeth or aches that don't subside with time. At this point, the issue has reached a more advanced stage and treatment is crucial for avoiding an infected or lost tooth.
Creating a Minimal Restoration
We will carefully examine your child's smile. If we find cavities, then we can remove the decay from the tooth and thoroughly clean them. Next, we prepare the restoration material, a metal-free blend of glass and acrylic compounds that can be shaded to match the color of the tooth itself. We apply this material to the tooth and then shape it as we cure the composite resin under a light. Finally, we polish the tooth to offer a more lifelike appearance. In a single visit, we can treat the problem and prevent major complications. We can then discuss options to help reduce the risk of future cavities, such as regular brushing and flossing and six-month checkup and cleaning visits.
The Dangers of Ignoring Cavities
Often, parents assume that since baby teeth will fall out, ignoring a cavity isn't a major concern. However, depending on the teeth and the child's age, falling out could occur months or even years after a cavity forms. Which means ignoring it allows the decay to grow worse until the tooth becomes painfully infected. In some cases, we can restore the infected tooth. Other times, we need to remove it to prevent the spread of infection. Premature tooth loss then impacts how the permanent teeth erupt, increasing the risk of dental misalignment and boosting the need for braces as your child enters the teen years. Treating tooth decay protects the smile, and seeing us for routine visits every few months and allows us to monitor the smile and address these issues quickly. If you would like to schedule a visit for your little one before the hectic holiday season, then please contact our team to learn more.
SUNNY SMILES IN EL PASO TREATS CHILDHOOD CAVITIES
At Sunny Smiles in El Paso, TX, our team can help kids avoid the complications of untreated cavities. We can also discuss preventive treatments and other options to help safeguard little smiles.  If you have question about our care for little smiles, then please call our East El Paso location on N. Zaragoza Road at 915-849-9000!