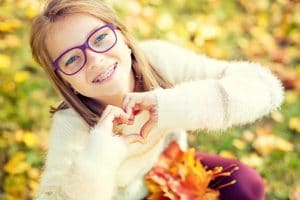 When our teeth become crowded or crooked, this could lead to serious problems for your smile's health and stability. In order to correct the poor alignment, a child's smile may benefit from orthodontics, also known as braces. In today's blog, your El Paso, TX, dentists discuss the importance of treating misalignment early!
The Dangers of Misalignment
When teeth become crooked or crowded, this makes thorough brushing and flossing hard. Food particles could remain trapped between the teeth even with the best efforts, and allow bacteria to break them down. This process elevates levels of oral acidity and coats the teeth in plaque, increasing the overall risk of tooth decay and gum disease. In addition, poor alignment has been known to place pressure on the jaw joints and upset overall bite balance, leading to a higher likelihood of TMJ disorder and bruxism, two disorders linked to headaches, jaw pain, and damaged teeth. Misalignment also impacts smile beauty, causing people to feel uncomfortable and self-conscious about their smile's appearance.
How Do Braces Work?
In order to correct poor alignment and improve overall oral health, your child may benefit from braces. Total treatment time varies and depends on the cause and extent of misalignment, but could fall between 18 months and 2 years. The procedure involves placing metal brackets onto the front-facing sides of your child's teeth, and connecting them with an arch wire. Over time, adjustments will be made periodically to the tension in the wire, which begins moving the teeth and repositioning them. The jaw bone tissue will change and adapt to these new positions and secure the new smile. Children enjoy better alignment, a more attractive smile, and better overall oral health.
Referring Your Little One
How do you know when your little one needs orthodontic care? Well, we offer exams and cleaning every six months help keep kids free of tooth decay and other common oral health problems. If we notice the warning signs of misalignment, then we may suggest treatment and refer them to an excellent orthodontist in the area, who will administer treatment to correct poor alignment. Using general dental care, we can make sure your little one's smile is ready to see the orthodontist and begin treatment! If you have any questions about correcting misalignment, then contact our team today. We want to help your children enjoy optimal oral health and beautiful smiles for many years to come!
SUNNY SMILES IN EL PASO CAN TALK ABOUT ORTHODONTIC TREATMENTS
At Sunny Smiles in El Paso, TX, we understand how the alignment of the teeth impacts the overall health of the smile. If you have questions about our approach to children's dentistry, then please call our East El Paso location on N. Zaragoza Road at 915-849-9000!