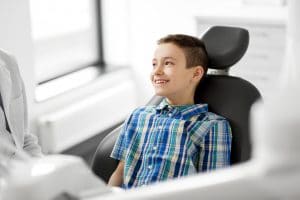 Helping your child stay healthy and happy is obviously important. Fortunately, you are able to count on help from your El Paso, TX dentist when it comes to keeping your child's teeth in great shape! Early dental care is important for introducing kids to the need to manage the condition of their teeth and gums. In addition to providing professional care at every pediatric dental checkup, we offer guidance and lessons for kids that can help them do a better job maintaining their oral health on their own. These visits also help your child feel at ease in the dentist's office, which can make them more comfortable with regular dental checkups as adults.
Creating A Welcoming Environment For Your Child On Their First Visit
Our practice is committed to making sure your child has a terrific experience when they visit us for the first time. An initial appointment is important because it can be that young patient's first real introduction to a dental office, and professional dental care. While they should start regular dental visits at around their third birthday, you should plan an introductory visit when their first tooth arrives, or by their first birthday. This early introduction to the dental office can make this setting feel more comfortable for them once they start receiving ongoing pediatric dental care.
Helping Kids Understand The Importance Of Oral Hygiene
Kids, like adults, enjoy professional teeth cleanings and evaluations at every appointment. With that said, kids are also given extra support in the form of dedicated instruction and guidance concerning their oral health. Your dentist can give them insights on the value of a healthy diet, while also offering tips to improve their brushing and flossing activities. With this support, kids are more likely to make an effective effort on their own to clean their teeth, and limit the risk that they will need dental fillings, or other types of restorative dental treatments.
Tracking Your Child's Developing Dental Structures
As your dentist takes care of your child over the years, they can keep watch over the development of their dental structures. With this information, they can keep you informed about any issues that develop over time. Because problems with dental alignment often affect children, your dentist can recommend if orthodontic work is needed, and when treatment should begin. As they grow older, your dentist can watch for the arrival of their wisdom teeth, and talk about a possible need to plan an extraction.
Talk To Sunny Smiles In El Paso, TX To Schedule Your Child's Dental Care
Sunny Smiles in El Paso, TX is ready to help kids and adults in our community maintain fantastic smiles! If you are interested in arranging pediatric dental care for your child, you can contact our Northeast El Paso location on Dyer Street by calling 915-759-7000!