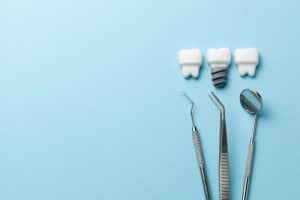 Losing teeth means poor oral health and negative impacts on the appearance of the smile. Fortunately, your El Paso, TX, dentists can address minor and severe tooth loss with implant dentistry. Longer-lasting than bridge and dentures, dental implants not only look natural, but they can provide decades of tooth replacement.
What Happens When We Lose a Tooth?
Losing a tooth often leads to serious complications for your smile's health and appearance. For example, the gap in the smile could cause surrounding teeth to eventually drift from position. The result is misalignment, which not only impacts your smile's appearance, but could also lead to a greater risk of tooth decay and gum disease. The lack of a tooth root means the body no longer provides that section of jawbone with doses of calcium and phosphorus. Denied these nutrients, the jawbone tissue breaks down and leads to further tooth loss and eventually, additional missing teeth. Finally, the poor bite balance that tooth loss causes could lead to TMJ disorder and bruxism.
The Dental Implant Process
To prevent these complications from arising, your team may recommend replacing missing teeth with a strong and lifelike dental implant. We will carefully examine your smile and choose the optimal placement area. We then insert the dental implant into the jawbone through oral surgery. The implant will bond with the jawbone like a natural tooth root, which takes between three and four months. We then complete the new tooth by adding a crown, which looks natural and can absorb bite forces and pressure. Our team also offers treatment for advanced tooth loss, using implant dentistry to support fixed dentures. The entire process is completed in-house for your convenience!
Protecting Your New Teeth
Following treatment, we will recommend routine care to help protect your new teeth and your remaining natural ones as well. Each day, you should brush your teeth twice for two minutes and also floss before going to sleep. These steps limit the risk of plaque buildup, tooth decay, and gum disease. Every six months, a routine checkup and cleaning is in order, so we can monitor your smile and also remove plaque from the teeth completely. With the right steps, your new tooth has the potential to last decades, if not a lifetime! If you have any questions or concerns about addressing your missing teeth, then contact our team today to learn more.
SUNNY SMILES IN EL PASO OFFERS TOOTH LOSS SOLUTIONS
At Sunny Smiles in El Paso, TX, we can discuss implant dentistry and other options to address missing teeth and improve overall health. If you have question about our restorative care, then please call our East El Paso location on N. Zaragoza Road at 915-849-9000!