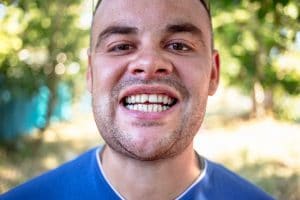 Did you know that a chipped tooth, even if the damage appears minimal, is actually a dental emergency situation? In fact, how you respond to a damaged tooth is crucial for avoiding the risk of a decayed or infected tooth. In today's blog, your El Paso, TX, dentists explain how to respond to dental emergencies, and when to see us for treatment.
The Dangers of Damaged Enamel
The thin layer of enamel that coats our teeth is incredibly strong and designed to protect the sensitive inner structure from harmful bacteria, limiting the risk of cavities, infection, and tooth loss. So, when this layer becomes compromised, this means bacteria has gained access to the sensitive inner dentin, enabling a cavity to form and causing discomfort and poor oral health. A cracked or chipped tooth could mean your tooth is exposed and at risk, so even if the damage doesn't appear major, please schedule a visit to see us right away.
What to Do
First, see if you can recover any pieces of your tooth, and if so, bring them to the office with you. You can control the bleeding with a bit of cloth or piece of gauze, and use a cold compress against the side of the face to reduce swelling. You may also take a pain reliever. Contact our office as soon as possible, using the phone numbers below to call or text us, or using the Book Now button on our website to schedule a visit as quickly a possible. We also accept walk-ins Monday through Saturday at our East-side location on 1788 North Zaragoza road starting at 9am.
Repairing Your Tooth
Often, we can address minor damage in a single visit. With dental bonding, we employ a metal-free composite resin, a special blend of glass and acrylic, to rebuild the structure of the tooth. We can shade this material to match the color of your teeth. After we apply the material, we will sculpt the tooth as it cures under a light. Finally, we will polish the tooth for a more lifelike appearance. Now, if the crack or chip is more severe, then we may need to create and place a custom-made dental crown, which could take about two visits to complete. The restoration we provide will prevent further damage, help you avoid oral health complications, and will look natural.
SUNNY SMILES IN EL PASO PROVIDES EMERGENCY TREATMENTS
At Sunny Smiles in El Paso, TX, our team is ready to help you enjoy a healthy and beautiful smile with our emergency treatment options. If you have questions about responding to chipped or cracked teeth, then please call our East El Paso location on N. Zaragoza Road at 915-849-9000!