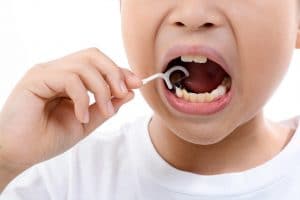 Routine care for kids helps stave off serious oral health concerns, such as tooth decay and gingivitis. In addition to seeing their El Paso, TX, dentists every six months, kids also need to care for their teeth and gums from home. In today's blog, we're talking about what parents and kids can do to ensure everyone is brushing and flossing as they should!
Brushing Teeth
For babies, you should clean their teeth at night and in the morning by gently rubbing them with a piece of cloth or gauze. This removes milk and juice particles, reducing the risk of cavities. As soon as a tooth arrives, the risk of a cavity is present. In fact, baby bottle tooth decay is a term used to describe cavities forming in infants and young toddlers.
Once your child is toddler aged, you can assist them with an age-appropriate toothbrush. As they grow older, they will be able to brush on their own, but you should still monitor them to make sure they're doing so correctly. Kids toddler aged and up should clean their teeth for about two minutes, once when waking up and again before bed.
We recommend using a toothbrush with soft bristles, as brushing too hard can inadvertently damage enamel or irritate gum tissue. This advice applies to teens and adults too! For kids ages three and older, a fluoride toothpaste as recommended, as fluoride strengthens the outer tooth enamel to prevent cavities.
Flossing
As soon as there are teeth sitting side-by-side, food can become trapped between them. In some cases, brushing alone simply cannot remove these trapped food particles, which leaves them for bacteria to consume, a process that leads to higher oral acidity, plaque buildup, and a greater cavity risk (as well as gingivitis, teeth stains, and bad breath). For young children, you can help them with floss picks. As they grow older, they can choose between picks or floss tape. Water flossers are effective for older kids too. They should clean their teeth before they go to bed each night. To help, after a meal we recommend they rinse their mouth with water and maybe floss a little to remove lodged bits of food. If you have any questions about brushing and flossing, or if you would like to bring your little one in for a checkup and cleaning, then contact our team today.
TALK TO SUNNY SMILES IN EL PASO ABOUT ORAL HYGIENE
At Sunny Smiles in El Paso, TX, our team is ready to help people of all ages enjoy healthy smiles free of decay and disease. If you have questions about brushing and flossing, you can reach our East El Paso dental practice on 10039 Dyer St., at 915-859-7000!