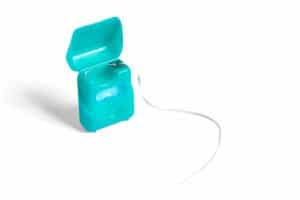 Brushing is definitely important, but it is not the only step you should be taking to address bacteria and food debris that can gather on your teeth. A daily flossing routine gives you an important level of support, because this action targets the difficult-to-reach areas that reside between your teeth. These areas are difficult to reach with your brush, but they offer enough space for oral bacteria to gather. When you effectively brush and floss, you can look forward to good news about your oral health at your next routine dental exam with your El Paso, TX dentist.
Flossing Protects Areas Of Your Smile That Are Difficult To Clean By Brushing Alone
Every time you floss, you have the chance to clear away oral bacteria and food particles that can become stuck between teeth. This is something you should do on a daily basis, as oral bacteria can form plaque, and later tartar, in less time than you might expect. When you take time out of each day to floss, you can reduce your risk for developing cavities, or suffering gum disease, meaning you will be less likely to need restorative dental work. To make the most of your flossing habit, make sure you are cleaning down to the base of your teeth, at your gum line. This delivers important protection against gum disease.
The Importance Of Fully Defending Your Smile Against Decay And Gum Disease
A fully developed strategy for fighting tooth decay and gum disease can help you maintain your healthy smile. Clearing away the oral bacteria that build up on your teeth will have an important effect on your well-being, but remember that you should also protect yourself by limiting your consumption of harmful products. Products that are high in sugar can lead to cavities, and acidic products can cause your enamel to soften, and give you less of a natural defense against trouble.
How Healthy Is Your Smile? Your Dentist Can Provide Important Feedback At Every Checkup!
Routine dental exams help patients keep their teeth in good shape, and they give you important updates about your current oral health. The cleaning you receive can make you less likely to experience a problem with tooth decay that makes placing a dental filling or dental crown necessary. Your review with your dentist can lead to the discovery of many problems – gum disease and cavities are certainly causes for concern, but your dentist can also help you by identifying issues with TMJ dysfunction, which can be the reason you experience chronic pain.
Sunny Smiles In El Paso Can Help You Maintain Healthy Teeth And Gums
At Sunny Smiles, families in and around El Paso, TX can enjoy fantastic oral health care! Our practice can provide regular exams that keep you well-informed about the current state of your smile. We can also help by offering a range of restorative and cosmetic dental procedures. To learn more, you can reach our east El Paso dental practice at N. Zaragoza Road by calling 915-849-9000!