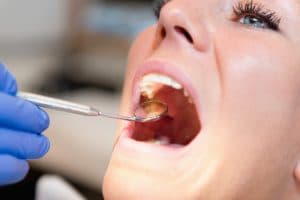 How often do you and your family make time to see your El Paso, TX, dentists for dental care? Instead of only seeing us when you develop a toothache or injure your smile, you should consider making time for a routine checkup every few months. These preventive visits can go a long way toward improving your smile's health and helping you abvoid common oral health problems!
The Dental Exam
The exam portion involves the dentist performing a visual scan and also employing advanced technology to make a detailed assessment of your oral health. We will look at your teeth for possible indicators of tooth decay or infection. Wear and friction on the teeth could mean teeth grinding or possibly TMJ disorder. Our team will also look at the gums for signs of gingivitis and gum disease. For adults, we will perform a yearly oral cancer screening to identify the disease in the earliest stages. By identifying these problems in the early stages, we may be able to treat them without the need for extensive procedures. We can also offer tips for keeping your smile healthy and whole!
How Often Do I Need One?
Children should have an initial visit at around age one. At around age two, six month visits should commence. Teens and adults also benefit from seeing the dentist every six months, as this allows is to monitor your smile and often offer treatment when an oral health concern is just starting, even before you experience discomfort in some cases. However, if you have high risk factors for gum disease, we may suggest a visit every three to four months so we can monitor the disease and clean your teeth, helping you avoid periodontitis, the advanced stage that often leads to adult tooth loss. We will let you know how often you should see us following your treatment.
Cleanings and Routine Homecare
During the same visit we will also clean the teeth. A dental cleaning helps kids and adults alike, and involves removing all plaque and tartar from the surface of the teeth. The procedure is crucial for preventing inflammation and keeping gum disease at bay. A cleaning also prevents tooth decay and helps people maintain better breath and brighter teeth. If you would like to learn more about our preventive treatment options, then please contact our team today. We would love to schedule a visit for you and your family!
TALK TO SUNNY SMILES IN EL PASO ABOUT DENTAL EXAMS
At Sunny Smiles in El Paso, TX, our team wants to help you maintain a healthy, shining smile. If you have questions about our preventive treatment options, or if you want to set up an appointment, you can reach our East El Paso dental practice on 10039 Dyer St., at 915-859-7000!