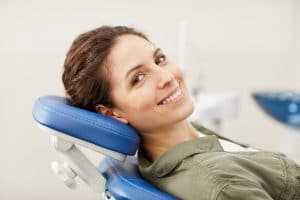 Did you know that seeing us every six months for a routine checkup can help you enjoy a healthier and brighter smile? In today's blog, we're going to take a closer look at our dental checkups and why we urge El Paso, TX, residents to see us for treatment. What happens during an exam? What should you expect when you make an appointment for you or your family?
Don't Forget to See Us!
The American Dental Association recommends a routine checkup and cleaning every six months for children, teens, adults, and even seniors. The reason is simple, by monitoring your smile every few months, we have a greater chance to catch oral health problems in the earliest stages, treating them with less intensive solutions. For example, if caught early, we can stop a cavity with a single-visit filling. If we don't uncover it until the later stages, you may need a root canal and crown instead.
Our team will look for the warning signs of cavities, infection, gingivitis, and gum disease. We will also look at your jaw joints and examine the teeth for signs of wear and friction that could point to bite imbalance, TMJ disorder, and bruxism. Once a year, we will also screen our adult patients for oral cancer.
Cleanings and More
The visit is about more than the visual exam. We will also clean your teeth. A dental cleaning is a procedure in which the dentist or hygienist will use an ultrasonic scaling device and manual tool to remove all plaque and tartar from your teeth. A bacterial byproduct, plaque weakens tooth enamel and inflames gum tissue, which means a greater risk of tooth decay and gum disease unless addressed. The procedure also leaves you with brighter teeth and fresher breath!
Single Visit Solutions
For children, we may suggest fluoride treatments or dental sealants, which can be applied in the same visit, to help reduce the risk of tooth decay. For people of all ages, we can schedule a visit to offer repair in one sitting with tooth fillings or dental bonding. We want to return your smile to optimal health and function, and the best route is with routine preventive care. If you have any questions, or if you would like to schedule a visit for you or a member of your family, then please contact our team today.
SUNNY SMILES IN EL PASO PROVIDES THOROUGH EXAMS
Our Sunny Smiles team wants to provide a detailed dental exam for your whole family. With regular visits for general and preventive care, we can help you and your loved ones enjoy healthy, shining smiles. To learn more about our preventive treatment options, please call our East El Paso location on N. Zaragoza Road at 915-849-9000!