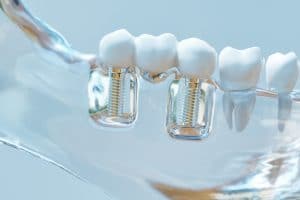 Have you lost one of your teeth? Losing teeth could lead to serious consequences for the health and beauty of your smile. In order to help smiles in El Paso, TX, stay full and functional, we may suggest replacing your lost teeth. From dental bridges to implant dentistry, which option is right for your smile? What should patients expect from placement?
Dental Bridges
We may recommend a dental bridge to address between one and three lost teeth in a row. The prosthetic consists of the replacement teeth, known as pontics, with crowns attached to each end. The crowns will be placed on the natural teeth on either side of the gap in the smile, securing the pontics firmly. We custom-create them using lifelike materials to ensure a natural looking appearance and a comfortable fit.
Full and Partial Dentures
Dentures are designed to address more severe cases of tooth loss. If you've lost a substantial number of teeth, but not enough to warrant a full prosthetic, then we may recommend a partial. This can replace missing teeth even if the gaps are spread out across the smile. The prosthetic consists of the new teeth and a base designed to look like gum tissue. Metal clasps attached to the natural teeth will anchor them in place. A full consist of a compete set of teeth, addressing one or both arches. Natural suction holds them in place and they will be crafted to look natural and blend with your smile.
All-On-4® Fixed Dentures
For added security, we may use dental implants to hold your dentures in place instead of suction or adhesives. Dental implants stimulate the growth of jawbone tissue, which prevents the loss of bone density that often accompanies tooth loss. They last much longer than removable options, while still offering a lifelike appearance. With All-On-4® we secure them with just four dental implants per arch, instead of six to eight.
Same Day Dental Implants
Typically, placing single tooth dental implants means inserting the implant, waiting three to four months for the area to heal, and then adding the restoration to complete the new tooth's visible portion. However, for qualifying patients we may be able to complete the entire process in a single visit, so you leave the office with a full smile! If you have any questions about these or any of our other tooth replacement options, then contact our team today.
TALK TO SUNNY SMILES IN EL PASO ABOUT TOOTH REPLACEMENT
At Sunny Smiles in El Paso, TX, we can offer a custom and durable solution to minor or advanced tooth loss. If you have questions about improving the health, beauty, and function of your smile, or if you want to set up an appointment, you can reach our East El Paso dental practice on 10039 Dyer St., at 915-859-7000!