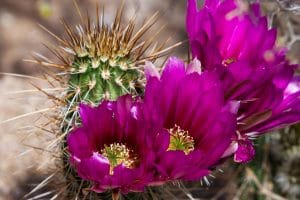 On Saturday, July 13, you can explore the great outdoors of El Paso, and learn abut the local fauna, by joining the Rare Plant Tour! A guided tour, led by a local expert, can introduce you to the many interesting species that exist around our community. You can even learn how to identify some of these lovely, strange plants in the Hueco Tanks area, and see a tree that is exclusive to our region! While the Rare Plant Tour is a great learning opportunity, it also serves as your chance to take in some exercise, which can help you maintain your physical health. Did you know that healthy gums can also have an impact on your well-being? Your El Paso, TX dentist can check on the condition ofy our periodontal tissues during your next routine dental exam!
When:
The Rare Plants Tour is taking place on Saturday, July 13. The event is scheduled to begin at 8:30 am.
Where:
This event will be held at Hueco Tanks State Park.
Cost:
For attendees aged 13 and older, the cost of admission is $9. For kids between ages 2 and 11, the price is $2. Texas State Park Pass holders can also gain entry for $2.
Activities Include:
During this guided tour, a local plant expert will introduce you to interesting fauna growing in Hueco Tanks, and teach you how to identify different plant species.
For More Information:
For more information on this upcoming event, click here.
Schedule Dental Care At Sunny Smiles In El Paso, TX!
At Sunny Smiles in El Paso, TX, you and your family can enjoy quality oral health care every time you see us! We are proud to make beneficial preventive dental care available to people of all ages, and we can offer support when you are in need of restorative or cosmetic work. For more information, or to arrange your appointment, you can reach our East El Paso location on N. Zaragoza Road by calling 915-849-9000!