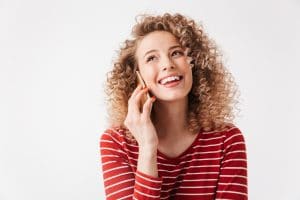 With the wide variety of dental treatment options available today, choosing the right one will always require a thorough examination and diagnosis by your dentist. In some cases, your treatment may be much simpler than you originally thought, especially if you have complex concerns and qualify for porcelain veneers. In fact, many patients can completely makeover their smiles just by having one or more veneers bonded in place. Today, we offer a few questions that can help you determine if your smile might be best improved with porcelain veneers.
Can your smile be improved more simply?
During examination, your dentist will gauge the extent of the blemishes that mar your smile, and if appropriate, suggest a simpler treatment than veneers. For instance, if your teeth are stained, then you can likely improve them with non-invasive teeth-whitening, which doesn't require any level of tooth preparation.
Is your tooth structure strong and healthy?
To place a veneer, your dentist has to sculpt a small amount of enamel from its front surface. This leaves enough room for your veneer to sit flush with the rest of your teeth, but it requires that your tooth be strong and healthy enough to withstand the preparation.
Do you have an existing dental issue?
Besides the strength of your teeth, your dentist will also determine their overall health. If an issue like tooth decay is present, then it will have to be addressed before a veneer can be placed onto the tooth. If you have gum disease, then it will also have to be addressed to serious complications, such as loose or lost teeth.
Learn More About Smile Improvement with Veneers
If your smile needs improvement, then your dentist can help you determine if porcelain veneers are the best way to do it. To learn more, schedule an appointment by calling the Sunny Smiles dental office nearest you in El Paso, TX, today! We have offices in the East, Northeast, and Westside of El Paso, and happily welcome patients from all nearby communities, including Chaparral, Canutillo, Vinton, and Sunland Park, New Mexico.