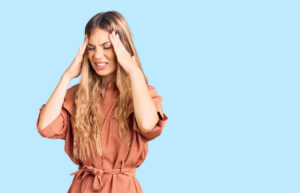 When you have headaches or jaw pain on a frequent basis, you may have strain on our jaw joints. This could lead to discomfort, and also impact how you eat too. But we can offer a solution with a comfortable and noninvasive solution with an oral appliance. In today's blog, Sunny Smiles talks about our approach to TMJ therapy.
The Causes of Joint Strain
Multiple factors could lead to strain on the joints that connect the jaw and skull. For example, you could suffer malocclusion due to misalignment. Tooth loss, injury to the face or jaw, or issues with the growth and development of the jaw could also be factors. When the joints sustain serious strain, this could lead to the onset of TMJ disorder. With the disorder, you may experience headaches, migraines, jaw pain, or aches in the neck and shoulders. A popping or cracking sensation in the smile could also develop. Without treatment, this could mean complications with how you open and close your mouth, and worsening discomfort. Don't ignore these symptoms, please contact our team to start treatment!
The Link to Bruxism
Untreated TMJ disorder could lead to bruxism (chronic teeth grinding). The same is true if you already grind your teeth, as this could lead to TMD. When we grind our teeth on a regular basis, this could place pressure on the smile and increase the risk of tooth decay and infection as the teeth are damaged. But with TMD treatment, we can also help manage bruxism to protect your teeth from injuries.
Treating TMD with Oral Appliances
We begin with a detailed examination of the smile, so we can assess the cause and extent of your TMD, and choose the most appropriate treatment option. For most, we offer a comfortable and noninvasive option with an oral appliance. The device is custom-made to fit comfortably and help shift the jaw to court strain. This helps you avoid TMJ-related symptoms. Our team can also place a barrier between the upper and lower sets of teeth to prevent further damage from bruxism. Other treatment options include orthodontics to treat misalignment, prosthetics to replace missing teeth, and bonding or crowns to improve overall bite balance.
If you have any questions about how we treat TMJ disorder with oral appliance therapy, then contact our team today to learn more. We want you to enjoy a healthy and comfortable smile!
TALK TO YOUR DENTIST AT SUNNY SMILES ABOUT ORAL APPLIANCE THERAPY
We can offer a noninvasive solution to the factors behind your headaches. To learn more about easing the strain and stress in your joints, please contact our Sunny Smiles location on N Zaragoza Rd in El Paso, TX at (915) 849-9000.