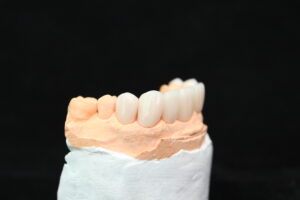 When we use one or more porcelain veneers, we can offer major cosmetic improvement in just two visits. For some, these could even provide a complete smile makeover! In today's blog, Sunny Smiles discusses how we improve the overall beauty of your smile with our custom and natural-looking porcelain veneers.
The Cosmetic Concerns That We Correct
Our team can tackle multiple cosmetic issues at once, so we transform the shape and color of your teeth. For example, we can mask permanent teeth stains, the type that developed beneath the enamel and that could be difficult to remove with teeth whitening. We could also correct misshapen teeth or repair minor damage too. Placement could reshape malformed teeth and also close embarrassing gaps between the teeth too. We could even correct the appearance of minor misalignment, providing a solution to the appearance of your smile that doesn't require braces or aligners. For some, porcelain veneers provide a smile makeover in only two sittings!
The Process of Creating Porcelain Veneers
Each one is custom-made for your smile, which helps maintain optimal esthetics. To get started, we will numb the teeth being treated and then gently remove a thin layer of outer enamel from them. Next, we take detailed digital images of your teeth from multiple angles. We then use these images to create a 3D computer impression, so we can design your custom veneers with precision and accuracy. When they're ready, you will return to the office so we can attach them with a powerful bonding agent. The porcelain material can be shaded to ensure they blend with your smile, and the material can also handle daily bite forces and pressures with ease.
Safeguarding Your New Restorations
With a few simple steps, you can ensure they stay bright and also safeguard the teeth they're connected to, so your restorations can truly last and protect your smile's beauty. You should take time to brush twice a day for about two minutes, and also floss every evening before brushing the second time. Cutting back on sugar and starch in your diet is helpful too, as is avoiding tobacco products. Be sure to see our team for checkups and cleanings every six months as well, so we can safeguard your smile against issues like infection or gum disease, so you maintain a complete smile.
If you have any questions about how we transform smiles with cosmetic dentistry, then contact our team today to learn more.
LEARN MORE ABOUT COSMETIC DENTISTRY IN EL PASO, TX   
With the placement of our thin restorations, we can transform your smile. To learn more about our cosmetic treatment options, then contact our Sunny Smiles location on N Zaragoza Rd in El Paso, TX at 915-849-9000.