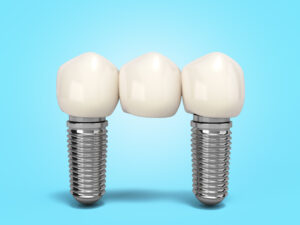 If you suffer from tooth loss and want to try dental implants, you may assume this is a long and involved process. Well, for some patients we could have secured a new tooth or a fixed prosthetic in only one visit. In today's blog, Sunny Smiles is talking about our approach to same-day dental implants.
Preparing Your Smile
First, we will take a close look at your smile with digital x-rays, so we can understand the cause and extent of your tooth loss. We may need to treat any underlying issues, like gum disease, to ensure you avoid implant failure. We also need to make sure you have enough jawbone tissue to support the new teeth. Fortunately, All-On-4 relies on less structure, so you can obtain a complete smile without first undergoing a jawbone grafting or sinus lift procedure. The procedure will be planned in detail with these digital images, and will employ local numbing agents and also sedation to ensure you're comfortable and relaxed throughout the process.
Securing Your New Tooth Root
Our team will employ digital technology to guide the post into the jaw, where it will bond with the jaw and act like new tooth roots. This prevents the loss of mass and density that usually follows tooth loss, so your jaw ridge stays strong and doesn't breakdown with time. As a result, your new roots can stay in place for decades to come, possibly even a lifetime, with proper care and attention. In comparison, removable dentures need replacement every 5 to 10 years, and bridges only last only 10 years.
Attaching Crowns or Prosthetics
In the same visit as the implant placement, we will connect abutments to the posts that extend above the gum line. We can then connect a portion of the bridge or denture to it, supporting your prosthetic in the same visit. You can leave with a full smile! The first denture is a temporary, and you will return so we can connect the custom one we've made for your smile in particular. You never have to go without a complete smile during the process.
If you suffer from advanced tooth loss, don't hide your smile from the world or continue to watch your smile degrade. Instead, contact our team today to talk about your options. For many people, we can offer a complete smile with dental implants in only one visit!
SPEAK WITH YOUR DENTIST AT SUNNY SMILES ABOUT IMPLANT DENTISTRY
For many patients, we could support new teeth in only one visit. If you would like to learn more about our practice or plan your next visit, please call our Sunny Smiles location on N Zaragoza Rd in El Paso, TX at (915) 849-9000.