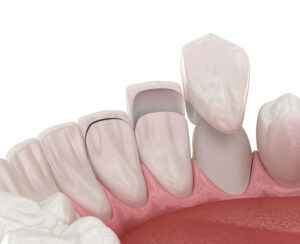 When you have several cosmetic issues with the appearance of your smile, then you may consider cosmetic dentistry. In many cases, our team could tackle multiple concerns at once with porcelain veneers. In today's blog, your El Paso, TX, dentists talk about how we can help smiles shine with porcelain veneers.
The Cosmetic Benefits
Porcelain veneers are very thin and cover the front and sides of the teeth. They not only fit comfortably, but they can be shaded to blend with the color of surrounding teeth. Once in place, they correct a wide array of common cosmetic complaints. Infections they correct include permanent teeth stains that could resist traditional teeth whitening treatments. They also treat the appearance of minor misalignment, so you can enjoy a straighter looking smile without the need for orthodontics. Placement could repair minor damage, lengthen teeth worn down by bruxism (teeth grinding), and close unsightly gaps between teeth too. We've also reshaped malformed ones as well. For many, they offer the chance at a smile makeover in only two visits.
Creating Custom Porcelain Veneers
The first visit is about preparing your smile and starting the process of creating your new cosmetic restorations. To get started, we will numb the tooth receiving them so you're comfortable as we gently remove a thin layer of outer enamel, making room for your new restoration. We then gather digital images of the tooth from multiple angles, using these detailed images to create a 3D impression, one far more accurate than traditional ones. Now, we use them in a delta lab setting to design and fabricate your custom veneers.
Placement and Maintenance
During your second visit, we will check the fit of your completed veneers and make any necessary adjustments before we attach them. A powerful bonding agent, the same we use for crowns and bridges, we will keep them in place. With proper care and maintenance, they can stay bright and last for years to come. We shade them to ensure they match your smile, and we could whiten your teeth beforehand so they match your brightest smile. To keep them bright and safeguard the teeth we've attached them to from decay, infection, or gum disease, you need to brush and floss daily, eat a healthy diet, and see us for a checkup and cleaning every six months.
If you have any questions about cosmetic dentistry, then contact our team today.
TALK TO SUNNY SMILES IN EL PASO, TX, ABOUT DENTAL CARE
We're ready to help you enjoy a beautiful smile with our cosmetic dental restorations. If you're ready to schedule a visit to transform your smile's beauty, then contact our Sunny Smiles location on N Zaragoza Rd in El Paso, TX at 915-849-9000.