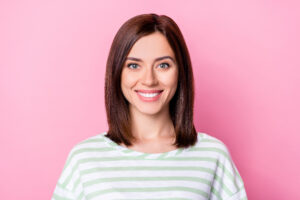 Porcelain veneers are a unique cosmetic treatment that can offer major improvement for your smile. In fact, this can reshape the teeth and mask common imperfections instantly. In today's blog, your El Paso, TX, dentists talk about the dramatic results that are possible with one or more of our porcelain veneers.
Our Thin Porcelain Restorations
These are a unique cosmetic treatment that can correct a number of different imperfections. This is because we create a very thin restoration from porcelain, and then attach it to the front of the teeth, instantly reshaping it and masking a wide range of issues. To create your veneers, we will first numb the tooth or teeth receiving them, and then remove a thin layer of enamel from the outside. Using digital imaging technology, we then gather images of the prepared tooth and employ them to create an impression, one that allows us to design and fabricate the finished product with precision and accuracy.
Placing Your Custom Restorations
When your veneer is ready, we will check the fit and make any necessary adjustments before we attach it with a powerful bonding agent. Once your new restoration is in place, it will offer dramatic and long-lasting results. The porcelain material is translucent like tooth enamel, and we have the ability to shade them to blend with the rest of your smile seamlessly. We could even whiten teeth beforehand so they match your brightest possible smile. The material is also very durable and can handle daily bite forces and pressure with ease. This is why we also use the same material in dental crowns and dental prosthetics.
The Cosmetic Possibilities
We could use them to offer repair for minor damage, such as cracks or chips, or to add length to the ones worn down by teeth grinding. We can close embarrassing spaces between the teeth and also correct malformed or misshapen teeth too. Veneers can mask permanent teeth stains, the kind that otherwise won't respond to teeth whitening treatments, or to correct the appearance of minor misalignment, so you enjoy an even looking smile with the need for braces or aligners. If you have any questions about how we can use these to address a severity of cosmetic concerns at once, or how we can offer a smile makeover by combining them with other cosmetic treatments, then contact our team today to learn more.
TALK TO SUNNY SMILES IN EL PASO, TX, ABOUT BOOSTING SMILE BEAUTY
Our team can use custom restorations to offer dramatic results in two visits. If you're ready to schedule a visit with our team and discuss the benefits of porcelain veneers, contact our Sunny Smiles location on N Zaragoza Rd in El Paso, TX at 915-849-9000.