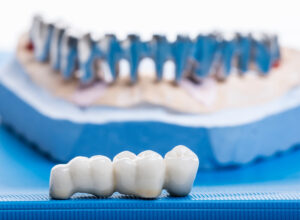 When you have a tooth that sustains damage, or one with a more severe case of tooth decay, then we could offer relief and a lifelike appearance with a dental crown. Each one we provide our patients will be custom-made! In today's blog, your El Paso, TX, dentists talk about improving smiles with dental crowns.
When Smiles Need Restorations
A dental crown covers the visible portion of a tooth, which is why we can use them to address an array of cosmetic and restorative concerns. For example, we can repair cracked, chipped, or worn-down teeth. Our team can reshape malformed teeth and also improve bite balance and chewing function. Placement also helps secure replacement teeth too, securing a dental bridge in place or even restoring a single tooth dental implant.
Creating Your New Restoration
We will custom-make each one to ensure a proper fit and a balanced bite, as well as a lifelike appearance. To start, we will numb the tooth so we can carefully remove structure from it to make room for the restoration. We then take detailed digital images of the tooth from multiple angles, which we then combine to create a 3D model. We use this in a dental lab setting to design and craft the finished product. We often create them from materials like ceramic, which we can color match to blend with your smile.
When your restoration is ready, we will check the fit and make any necessary adjustments, before we place the crown with a powerful bonding agent. Your restoration can remain in place for years to come, and good oral hygiene habits can help protect the teeth we've attached them to from the impact of tooth decay, infection, or gum disease.
Full vs. Partial Restorations
A full crown covers the entire visible portion of your tooth, and can address an array of issues with your smile. If there is a situation too severe for a filling but not quite severe enough for a full restoration, we could also place a partial. An inlay is one that fits in between the cusps on top of the teeth, while an onlay fits over them. Each is custom-made for a perfect fit and a lifelike appearance. If you have any questions about how our team designs and places custom dental crowns, then contact our team today to learn more. We want to help you smile with confidence again using our restorative treatment options.
TALK TO SUNNY SMILES IN EL PASO, TX, ABOUT REPAIRING YOUR SMILE
We want to help return your smile to optimal oral health, function, and beauty. If you're ready to schedule a visit with our team, then contact our Sunny Smiles location on N Zaragoza Rd in El Paso, TX at 915-849-9000.