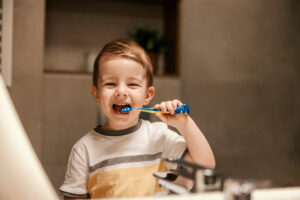 Children need dental care just like adults do, as this helps them enjoy good oral health. Starting care early can also help fight dental anxiety and instill good oral health habits as well! In today's blog, your El Paso, TX, dentists talk about the benefits of children's dentistry, and when kids should begin to see us.
Routine Checkups and Cleanings
We want to see your child for the first time once the initial baby tooth erupts, usually around age one. This is a simple knee-to-knee lap exam. Routine checkups and cleanings then begin at around age two. Checkups allow us to monitor the smile as it grows and develops, watching for signs of trouble or complications with the arrival and loss of primary teeth, and the eruption of the permanent ones. Our team will also watch for the earliest signs of tooth decay and gingivitis. These visits help kids become accustomed to seeing the dentist, reducing dental anxiety as a result. Kids also become more likely to continue caring for their smiles in adulthood.
In the same visit, we will also clean the teeth by removing all plaque and tartar with an ultrasonic scaling device and a manual pick. This process not only brightens teeth, but lowers the risk of bad breath, stained teeth, and tooth decay.
Treating Cavities
If we do discover the early signs of demineralization, or a cavity, then we can offer treatment with a dental filling. Instead of metal, we will use a composite resin that is safe for all ages. This material is strong and durable, and also has the ability to be shaded to blend with the smile as well. In one visit, we halt a cavity to prevent discomfort or the onset of an infection or abscess.
Avoiding Tooth Decay
Our team also offer preventive treatments to help lower the risk of cavities. For example, during each checkup visit we will apply a fluoride gel to the surfaces of the teeth. Fluoride then remineralizes the enamel to keep teeth strong and lower the risk of cavities. Since kids often have trouble reaching the rear teeth when they brush and floss, this is where cavities can develop. But with dental sealants, we place a plastic lawyer over the teeth to prevent food or drink particles from being trapped between them. These can offer up to ten years of protection in some cases!
If you have any questions, then contact our team today.
TALK TO SUNNY SMILES IN EL PASO, TX, ABOUT CHILDREN'S DENTISTRY
We want to help kids of all ages enjoy good oral health. If you're ready to schedule a visit with our team, contact our Sunny Smiles location on N Zaragoza Rd in El Paso, TX at 915-849-9000.