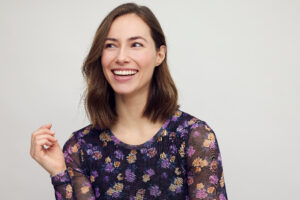 Your confidence in your overall appearance may be low just because you have problems with your smile. Our teeth can be hard for people to miss; unfortunately, that can mean any problems they have are quickly noticed. Does this mean you are stuck with an appearance that you are less than thrilled with? Through the right cosmetic dental procedure, you can take on the source (or sources) of your concern over your smile. Sunny Smiles offers different cosmetic services, including services that depend on porcelain veneers to make changes. The right restorations can take on many problems at one time while only making minimal changes to your tooth structure.
Are You Currently Confident In Your Smile?
Losing confidence in your smile because of gradual wear and tear or the buildup of stains can be hard. For some, doubts have always been present, as they can have issues with spacing, or they can be self-conscious about teeth that are the wrong shape or size. If you contend with any of these issues, cosmetic dentistry can help. We can talk with you about your options and look for ways to produce the most results while minimizing care. With porcelain veneers, we can hide flaws with thin, durable shells that can transform how you look!
Planning Dental Work That Can Improve On Your Appearance
Dental work with personalized porcelain veneers can make your smile more uniform, brighter, and generally more attractive. Veneers are made to only require minimal preparatory work, which means much of your tooth structure stays unchanged. They are placed on the fronts of teeth after it is confirmed they are the right shape and size to make the appropriate changes. Once in position, they can hold up against years of friction to maintain their appearance and benefits.
Alternatives To Treatment With Veneers
Through different cosmetic dental services, our practice can help patients take on the worries they have about the way they look. Veneers are often helpful, but they are not your only option. A tooth bonding and contouring procedure can have similar benefits while lowering the amount of work needed. These services reshape and resize teeth and hide problems through a careful application of composite resin.
Talk To Sunny Smiles About Using Veneers To Raise Your Confidence In Your Smile
Whether you have always felt self-conscious about your smile or have more recent concerns, our practice can help you! With veneers and other services, we can make significant and lasting changes to the way you look in order to boost your confidence. For more information on how we can use porcelain veneers to take on the issues that make you less confident in your smile, contact Sunny Smiles on Dyer St in El Paso, TX by calling 915-859-7000.