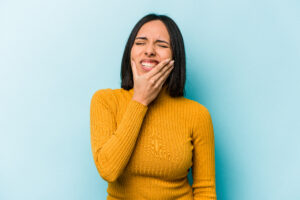 There are different reasons why people find themselves seeking emergency dental work. While this kind of care is often required when injuries occur, it can also be sought because of a persistent or significant tooth pain. Any time a patient reaches out in need of this kind of help, Sunny Smiles can offer valuable support. The kind of care you receive will be determined when you arrive; whether you have a significant issue or something that can benefit from more conservative care, we can see to it that you are comfortable with your appearance and health. Remember that our practice is here for more than just those times when you seem to have something wrong with your oral health—regular dental appointments lower your risk for future problems and help you maintain a confident and lovely smile!
Serious Tooth Trouble? We Can Provide Care On Short Notice
Any time a patient has a problem with their oral health that seems to require treatment on short notice, we are ready to help. Emergency dentistry can come in the form of a more involved restorative dental procedure, or it can be provided with more conservative cosmetic dental services. The goal during any procedure to address dental trouble is to offer a long-term solution while still minimizing the overall changes that must take place to provide care.
Dental Emergencies Can Receive Different Kinds Of Care
When you have a broken tooth, we can see whether cosmetic dentistry or restorative dental work are needed. Cosmetic work can hide chips, cracks, and other flaws after physical harm while limiting the overall work that must be done to restore confidence in your appearance. Restorative services are more involved, and they can even call for root canal therapy to make sure matters are fully resolved. A root canal is also provided when there are concerns about an infection that is causing you discomfort even if there are not concerns about the tooth's condition.
Make Sure You Take Advantage Of Regular Dental Appointments When Your Smile Is Healthy
Our office is ready to help when you need attention on short notice. With that said, remember that we are also here to help at times when you seem to be problem-free! Regular dental checkups and cleanings play a role in overall oral hygiene that should not be overlooked. We support patients of all ages in around El Paso, which means we can make sure that everyone in your household is receiving the right support.
Talk To Sunny Smiles About Scheduling Emergency Dental Services
If you want to know more about our commitment to emergency dental services, or if there are any other matters related to your smile that we can help you with, contact Sunny Smiles on Dyer St in El Paso, TX by calling 915-859-7000.