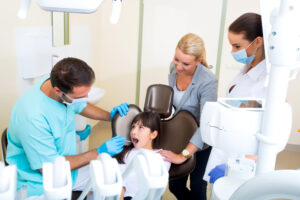 Does everyone in your family have a healthy smile? Would you like to make dental care more convenient for your household? Sunny Smiles welcomes El Paso families by providing all-ages dental services. Because we offer both pediatric and adult general dental care, we can welcome you and your kids for treatment. Our younger patients depend on us for more than just evaluations. We provide a warm and welcoming introduction to the dentist's office as well as instructions on practicing good hygiene. Adults who schedule visits with us can look forward to consistent care along with access to different beneficial services, including cosmetic care.
Is One Dental Office Really Able To Care For Your Entire Family?
Simply put, the easier it is for your family to attend dental checkups, the less likely you are to put them off or skip them. Parents can recognize the importance of bringing their kids for pediatric oral health exams and cleanings while still putting off their own visits out of convenience, or because they overlook their own need for care. Because you can book all of the visits that need to be scheduled for your household at one time and with one location, it is easier for you to make sure your own needs are cared for as well as your kids'.
Scheduling Pediatric Dental Visits
Pediatric dental visits should start at an early age to introduce kids to smile care, provide you with instructions on how to care for their teeth, and provide early feedback about their development. As they grow up, kids will start to receive the kind of care that adult patients enjoy. However, there are certain additional forms of support that are also provided. For example, kids will receive more instructions on how to brush and floss, so they do a better job of these tasks at home. They are also checked for developmental issues, such as malocclusion, a problem with poor teeth spacing.
Supporting Adults Who Require Oral Health Care
Adults should keep up with their oral health appointments. Going without them can lead to real consequences, as cavities and issues with gingivitis can be overlooked until they cause complications. Your regular visits provide you with care in the form of cleanings and reviews. We are also happy to answer questions that you might have about cosmetic dentistry and its potential for improving your smile.
Talk To Sunny Smiles About Dental Work For Kids And Adults
Regular dental visits are important at every age. Our practice is here to serve the El Paso community, and we can do so by offering support to kids and adults. If you need to arrange visits for the people in your household, you can contact Sunny Smiles on Dyer St in El Paso, TX by calling 915-859-7000.