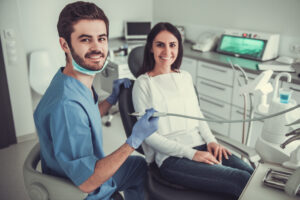 How much are you currently doing to take care of your smile? If you only count on the protection you can provide yourself at home, your dental health can ultimately suffer. When you take on issues with your health and well-being by visiting your dentist regularly, you receive more important support and can avoid threats to your teeth and gums! Sunny Smiles provides consistent general services to patients of all ages. That means El Paso families can rely on us for their smile care needs whether they want to come in for routine services or take on more advanced concerns.
How Much Are You Currently Doing To Protect Your Smile?
When you take care of your smile, you can avoid issues that hurt your appearance and health. That care should include more than just what you do for yourself at home. As important as it is to consistently brush and floss, and to limit your intake of sugary and sweet foods, you should count on your dentist's support in the form of general dental checkups and cleanings. During these appointments, you receive timely updates about the state of your smile, and you receive care that actually lowers your risk for future problems.
The Benefits Of Regular General Dental Checkups And Cleanings
General dental checkups and cleanings will help you take care of your smile and oral health over time. They do this in several ways, one of which comes in the form of thorough cleanings performed by your hygienist. What can these sessions do for you? While brushing and flossing are not able to remove tartar deposits that have formed, the care provided at your appointment will. This lowers your risk for future problems and it will also clear away any deposits that look unattractive. When your dentist evaluates you, the resulting feedback addresses any worries over your teeth, gums, and oral structures. When problems are identified, they are promptly treated so that there are not complications that have to be addressed at a later date.
We Also Provide General Pediatric Services!
General dental visits benefit patients of all ages. In fact, our practice can provide important pediatric services so that your little ones enjoy the right protection for their growing smiles. The nature of their visits will change over time. As they grow older, we can adjust how we protect them so that they keep seeing the right benefits from pediatric dental care.
Talk To Sunny Smiles About The Importance Of General Dentistry
With the right support from your general dentist, you can count on long-term support to help you protect your smile and oral health. If you would like to find out more, contact our Sunny Smiles location on N Zaragoza Rd in El Paso, TX today at 915-849-9000.