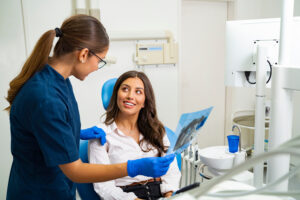 Restorative dental work takes care of problems with your teeth that will not go away on their own. Cavities and physical injuries can cause lasting harm; when not dealt with, the problems with teeth will gradually worsen and actually lead to more issues. Fortunately, protection can ensure that your smile and dental health are not changed. At Sunny Smiles, we can help you deal with oral health issues when they arise. By offering timely support along with crowns and fillings that match your enamel, we can provide a better experience during and after treatment, one that lets you bite, smile, and speak with sustained confidence.
Why Your Tooth Needs Lasting Protection After Cavity Treatment
Even after decayed tissues are removed when you have a cavity, you will need protection for your tooth structure. That harm to the enamel is permanent. Until something is done to protect the tooth, the problem will leave you vulnerable to further physical harm as well as difficulties with infection! We will closely assess your tooth and see if it is appropriate to use a dental filling or dental crown. A crown will require more preparatory work, but it will make protecting a tooth possible when a larger cavity has formed, or when your tooth experienced physical trauma that has to be treated.
Using A Dental Filling To Protect Your Tooth
If we identify a cavity in time to treat it before there are complications, you can expect to receive a dental filling. Fillings made from a lifelike resin substance will offer support while preserving your smile, as the material can imitate your enamel. The substance will bond to the tooth structure and harden when applied. This will give you the support that you need to make sure that you can bite and chew without issue.
Long-Term Smile Support With A Dental Crown
If you need more protection for your tooth, you can receive it in the form of a dental crown. This is a restoration that surrounds the tooth above the gum tissues, providing more stability and security so that you will not have trouble after restorative work. After we perform root canal therapy, or when we need to deal with a dental injury, we can use a crown to cap the tooth and absorb bite pressure for you.
Talk To Sunny Smiles About Restorative Dentistry!
Through restorative dental work, we can see to it that you retain your dental function and appearance when we respond to an active problem with your oral health. If you would like to find out more about how the different restorative services we offer can help you, contact our Sunny Smiles location on N Zaragoza Rd in El Paso, TX today at 915-849-9000.