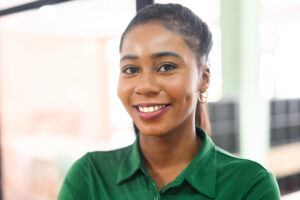 When you inquire about cosmetic dentistry, you can have several questions that you want answered. Sunny Smiles can provide information that lets you know what kind of support you can see from different services, and we can help you understand the path (or multiple paths) available to reach your goals. For many people, porcelain veneers can provide the right improvements. This is because these restorations are able to cover up problems with tooth shape, size, and color in just one procedure. They can do so while only covering a limited area, which means you preserve much of your healthy enamel. Because this is not your only option, you can find another path that better suits you in the event that veneers do not feel right for you.
Patients Look Into Cosmetic Dental Work For Different Reasons
There are different factors at play when it comes to patients asking about cosmetic dental work. For some, it is an opportunity to learn how dental discoloration can be treated. Others can see it as a means of restoring a specific tooth that is damaged or naturally misshapen. Of course, there are those patients who will have several improvements that they hope to see from care. With the option to have porcelain veneers put in place, you can find that you have a dependable choice even if there are different matters that you want to address. Veneers make it easier for people who feel that they have ambitious treatment goals, as it can take just two appointments for them to provide the right coverage to dramatically transform how you look for the better!
What Your Porcelain Veneers Can Do For You
Through a procedure that places porcelain veneers on flawed teeth, we can hide a number of embarrassing flaws such as discoloration, chips or cracks in your enamel, problems with tooth shape and size, and even some issues that have to do with uneven spacing. Their placement offers lasting improvements; while veneers are remarkably thin, they are still strong enough to keep their appearance over many years. After just two appointments, you can see remarkable overall changes to the way you look!
Looking Into Other Cosmetic Procedures
Through the placement of porcelain veneers, many improvements to the way you look can be made. However, this is not the only service that we will recommend to patients. We can also offer forms of support like tooth bonding and contouring work, which will carefully reshape and resize teeth, and also improve their color, in as little as one appointment. Of course, for those who are concerned primarily with the color of their enamel, we can recommend care in the form of teeth whitening treatment.
Talk To Sunny Smiles About Treatment With Porcelain Veneers
Through the placement of porcelain veneers, we can help patients take on different concerns that they have with the way that they look. If you want to find out more, contact our Sunny Smiles location on N Zaragoza Rd in El Paso, TX today at 915-849-9000.